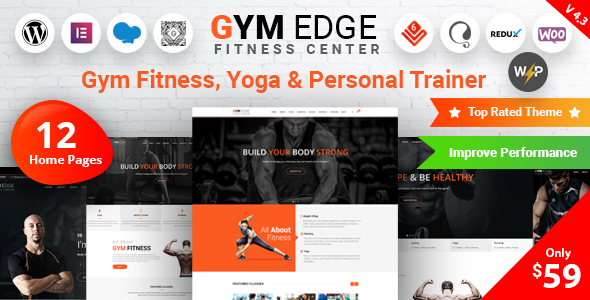 GymEdge – Gym Fitness WordPress Theme
GymEdge is a magnificent gym fitness WordPress theme with many amazing features. This onepage and multipage theme is ideal for gym establishments as well as yoga and personal trainers. Its numerous well-equipped pages give you a fully functional website in minutes.
Responsive and Mobile Friendly
We've tailored our theme so that it is fully responsive to all kinds of devices. This feature means that your users can access beautiful versions of your site from all sizes of screens.
A website that lacks mobile device compatibility is no good since most people nowadays access the internet from handheld devices. GymEdge makes your site mobile friendly.
Page Variety
Creating the perfect homepage presents a difficult task when building a site. Since we understand this, we have equipped GymEdge with 12 unique homepages, half of which are onepages and the rest multipages. With the One Click Demo Importer, all you need is to click once on the homepage demo you like, and you have your homepage of choice. We also included many pages, such as 05 class page variations, 03 schedule pages, and 05 trainer pages.
Value for Money
GymEdge brings with it features that save you more money than you spent on it. To make your page building experience the best, we included the best page builder on WordPress, WPBakery Page Builder. With this page builder – worth $45-, you get to create and customize your pages on a drag & drop interface.
You can create beautiful slides using the premium Layer Slider, worth $26. What's more, we've thrown in the WP Logo Showcase, which helps you display all your logos elegantly. This plugin saves you $17.
GymEdge Features:
06 Home Pages (Multi Pages).
06 Home Pages (One Pages).
05 Class Style (Grid & Slider ).
03 Schedule Pages (Table Routine, Schedule by Class & Schedule by Day).
05 Trainers Style (Grid & Slider).
Drag & Drop Page Builder included – WPBakery Page Builder ($45)
Drag & Drop Page Builder Elementor included
Powerful Premium Slider included – Layer Slider ($20)
WP Logo Showcase ($17)
Responsive & Mobile Friendly.
SEO Friendly
Unlimited Color Combinations.
Customizer Included so you can change read time of theme option
Powerful Admin Panel by Redux
Dynamic Page Header
Clean, Trending and Modern Design.
Free Lifetime updates!
One Click Demo Importer (12 Home Pages)
Child Theme Included.
Supports all modern browsers Chrome, Safari, Firefox, IE11+.
WPML Translation Supported ( also pot file included)
Quick & Faster Support (15 hrs online in a day)
Google Web Font
Detail Documentation Included.
ICONS:
Font Awesome
IMAGES:
Note: All images are just used for Preview Purpose Only. They are not part of the template and NOT included in the final purchase files.
FONTS:
Roboto ( https://www.google.com/fonts/specimen/Roboto)
Open Sans (https://www.google.com/fonts/specimen/Open+Sans)
Change Logs
Version 4.3.0 (Jan 17, 2023)

Added: Some CSS added
Fixed: Contact form CSS fixed
Fixed: Info Icon now showing
Updated: Fontawesome 5 updated
Plugins Update: GymEdge Core, LayerSlider, Review Schema Pro plugins updated

Version 4.2.12 (Oct 19, 2022)

Fixed: Class schedule category filter bug fixed
Update: GymEdge Core, WPBakery, LayerSlider and Review Schema plugins updated.

Version 4.2.10 (Aug 8, 2022)

Fixed: WooCommerce bug fixed
Fixed: Elementor deprecated bug fixed
Fixed: Routine category select bug fixed
Update: GymEdge core plugin updated
Updated: GymEdge Core and Review Schema Pro Plugin updated

Version 4.2.8 (July 07, 2022)

Updated: WPBakery Page Builder & LayerSlider

Version 4.2.7 (April 19, 2022)

Fixed: WooCommerce bug fixed 
Fixed: Elementor deprecated bug fixed 
Updated: GymEdge Core Plugin

Version 4.2.6 (April 01, 2022)

Updated: GymEdge Core and LayerSlider update
Fixed: Elementor bug fixed
Fixed: Search page style fix

Version 4.2.5 (Feb 28, 2022)

Update: WPBakery Page Builder, LayerSlider WP and Review Schema Pro plugins
Fix: Footer Flicker image ratio fix
Add: Add anchor icon in the parent menu item

Version 4.2.4 (Sep 30, 2021)

Add: New slider 
Add: Review Schema plugin
Update: Theme Optimization 
Update: Update all plugins

Version 4.2.3 (23 June, 2021)

Fix: Image property for Google Page Speed.
Update: Layer Slider and WP Logo Showcase plugin

Version 4.2.2 (Mar, 2021)

Updated: WPBakery Page Builder
Updated: LayerSlider
Added: AJAX Loading Spinner for Wishlist

Version 4.2.1 (Dec 24, 2020)
Fixed: WooCommerce form
Version 4.2 (Dec 18, 2020)<4>


Fix: Mobile menu for WP 5.6 & Some related fixing after update
Update: Added Bootstrap Latest Version (v4.5.3), WPBakery Page Builder, GymEdge Core Plugin


Version 4.1 (Oct 14, 2020)


Update: WPBakery Page Builder & Layer Slider


Version 4.0 (Aug 28, 2020)


Added: Elementor Version
Fixed: Onepage Navigation Issue


Version 3.7.3 (Feb 12, 2020)


Fix: WooCommerce compatibility
Plugins Updated: LayerSlider WP


Version 3.7.2 (Dec 12, 2019)


Fix: Double sticky header issue in frontend edit mode
Fix: YITH WooCommerce Wishlist plugin compatibility
Plugins Updated: LayerSlider WP


Sep 04, 2019 (Version 3.7.1)


Fix: WooCommerce image issue fixed.
Update: LayerSlider WP plugin


Aug 30, 2019 (Version 3.7)


Add: 3 more layouts added on Trainer Grid
Improvement: Smooth sticky header
Fix: Class grid php notice fixed
Plugins Updated: GymEdge Core, RT Demo Importer, WPBakery Page Builder, LayerSlider WP


May 20, 2019 (Version 3.5.1)


Fix: Some Gutenberg css fixed.
Plugins Updated: WPBakery Page Builder, LayerSlider WP.


May 10, 2019 (Version 3.5)


New: Testimonial addon grid layout added
Improvement: Gutenberg optimized
Improvement: Archive page created for Class and Trainers
Improvement: Built-in Breadcrumb support
Fix: BMI calculator chrome border issue fixed
Fix: Some typo fixed
Plugins Updated: GymEdge Core v2.12, RT Demo Importer, WPBakery Page Builder, LayerSlider WP


Mar 08, 2019 (Version 3.4)


New: Youtube icon added in About Widget
Fix: PHP 7.2 warning
Fix: Mobile logo rtl issue fixed 
Plugins Updated: GymEdge Core v2.11, WPBakery Page Builder, LayerSlider WP


Dec 07, 2018 (Version 3.3)


Fix: WPML some bug fixed
Plugins Updated: GymEdge Core v2.10, WPBakery Page Builder


Sep 18, 2018 (Version 3.2)


New: Option added for mobile menu responsive trigger
New: Education field added in trainer info
Improvement: Documentation updated
Fix: Page Builder RTL compatibility
Fix: Pricing box bug
Plugins Updated: GymEdge Core v2.9, RT Demo Importer v3.0, WPBakery Page Builder


May 28, 2018 ( Version 3.1)


Fix: Demo Importer bug
Plugins Updated: RT Demo Importer, LayerSlider WP


May 09, 2018 (Version 3.0)


New: 1 more Homepage added + One Page (Personal Trainer Home 6)
New: Preloader added
New: Footer 1 more layout added
New: More Visual Composer addons added
Improvement: Link added on WooCommerce Product thumbnail
Improvement: Documentation updated
Fix: IE 11 carousel slider little issue
Fix: Empty schedule bug fixed
Plugins Updated: GymEdge Core


April 09, 2018 (Version 2.9)


Improvement: Pernalink added on thumbnails of Post slider addons
Fix: WPML query bug fixed
Fix: Footer layout bug fixed when WPML is active
Fix: Addons Query bug fixed
Plugins Updated: GymEdge Core, WPBakery Page Builder, LayerSlider WP


Jan 20, 2018 (Version 2.8)


New: Single trainer layout added in Visual Composer Trainer addo.
New: Manually data import option added for existing website data.
Fix: WooCommerce variable product sku now works better
Fix: WooCommerce php warning has been taken care.
Plugins Updated: GymEdge Core, WPBakery Page Builder, LayerSlider WP, RT Demo Importer


Nov 20, 2017 ( Version 2.7 )


New: Custom Ordering support added for post, class, trainer, testimonial and gallery
Improvement: Permalink added in blog thumbnails
Improvement: Replaced div tag with p into Info-Text addon for better SEO]
Improvement: Now schedule vertically middle aligned in Class Grid
Improvement: Search result page improved
Fix: Removed empty weeknames from routine
Fix: Static file version number now comes from parent theme instead of child
Fix: Language loading bug fixed
Fix: LayerSlider search page js bug fixed
Fix: Loading issue of some components from front-end editor fixed
Fix: TGMPA warning fixed


Sep 25, 2017 ( Version 2.6 )


Improvement: FontAwesome Updated to 4.7
Fix: Now Layerslider update works
Fix: About widget spelling corrected
Fix: Nav scrolling js small bug fixed
Plugins Updated: Visual Composer & GymEdge Core


Sep 06, 2017 ( V 2.5 )


New: Testimonial category support added
Improvement: WPML updated
Improvement: Timepicker now support 15m instead of 30m
Fix: Single Trainer skills color bug fixed
Fix: Redux first time activation error notice
Fix: Single class schedule and Class Schedule Addon now displays properly even if end-time doesn't exists
Fix: Upcoming class timezone and 24h timetable bug fixed
Plugins Updated: GymEdge Core, Layer Slider


Aug 18, 2017 ( V 2.4 )


New: 5 new options added for controlling single posts 
Fix: VC Addon GymEdge: About variable style bug


Aug 11, 2017 ( V 2.3 )


Improvement: Logo height control options added
Improvement: Now some html tags allowed on About and Address widgets
Improvement: Now it's possible to display Schedule by Class category
Improvement: Visual Composer custom addons are more modular now, possible to override from child theme
Fix: Some translation bug fixed
Plugins Updated: GymEdge Core, Visual Composer, Layer Slider


Aug 01, 2017 ( V 2.2 )


Fix: BMI calculator bug
Fix: Banner image higher resolution support
Plugins Updated: Layer Slider


June 22, 2017 ( V 2.1 )


Fix: TGM library compatibility with WordPress 4.8
Fix: Single Trainer skills overlapped with fixed header before
Fix: Onepage nav extra offset
Fix: About fitness addon now works fine even if no image added
Fix: Logo showcase bug in safari browser
Tweak: Breadcrumb code modified
Tweak: Repeater fields are sortable now
Plugins Updated: GymEdge Core, RT Demo Importer, LayerSlider WP


June 5, 2017


Add: 01 New Home Page added
Add: BMI Calculator
Add: Class schedule Table Layout
Add: Upcoming Class
Add: Call to Action VC addon
Add: Buttons VC addon
Add: Class - 1 new layout
Add: Trainer - 1 new layout
Add: Blog - 2 new layouts
Add: Testimonial - 1 new layout
Fix: Schedule Order from morning to night ordering


Apr 7 2017


Fix: Increased banner top padding while transparent header/top bar is active
Fix: Removed 480px option from Trainer Grid
Fix: Applied same height css for some grid layouts
Fix: Mobile menu scrolling
Fix: WooCommerce Up-sell and Cross-sell products css updated
Tweak: Removed redux newsflash
Tweak: WooCommerce 3.0 compatibility
Plugins Updated: GymEdge Core, Visual Composer, Layer Slider


March 06, 2017 (Version 1.7)


Fixed: Weekday Typo
Fixed: Weekdays Translation
Fixed: Replacing Contact form 7 email after demo import
Fixed: Sticky Header z-index
Fixed: Post slider Category
Fixed: Nav scroll empty href debug error
Added: New hooks - gym_weeknames, gym_weeknames_short, gym_schedule_limit
Plugin Updated: GymEdge Core


Feb 23, 2017 (Version 1.6)


Fixed: Week Day display issue in single class page.
Fixed: Error notice upon schedule empty field.
Fixed: Schedule Empty day remove from day filter.
Added: 24-hour time schedule option in Theme Settings.


Feb 20, 2017 (Version 1.5)


Fixed: Gallery Spacing 
Added: Logo area width Control option in Theme Settings 
Added: Custom image Icon option for info box Visual Composer addon 


Feb 16, 2017 (Version 1.4)


Plugin Update: Layer Slider Latest Version
Update Documentation 


Feb 13, 2017 (Version 1.3)


Fixed: Blog title
Fixed: Mobile Menu Responsive height


Feb 8, 2017 (Version 1.2)


Fixed: Mobile Menu Scrolling
Fixed: Plugin WP Logo showcase css


Feb 6, 2017 (Version 1.1)


Fixed: Product Hover icon CSS 
Fixed: Top Header dynamic CSS 
Fixed: Schedule Time issue 
Fixed: PHP version 5.3 compatibility issue 
Fixed: WP LogoShowcase Image re-size issue. 
Updated: Plugin Gymedge Core, WP Logo Showcase


January 31, 2017 (Version 1.0)


Initial Released


Our WordPress Themes