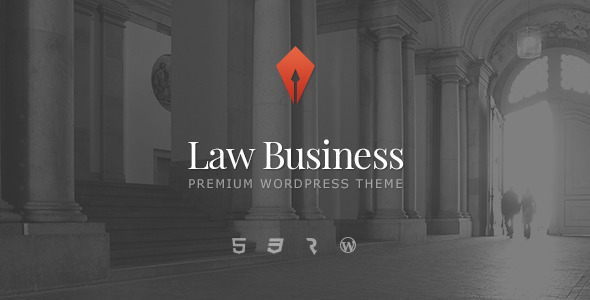 Current version – 1.6.6
LawBusiness – Attorney & Lawyer Theme
Law Business WordPress Theme is an ideal solution for a private attorney website as well as for larger law office websites. It includes all the neccesary functionality to present legal services online. Custom Services post type lets you provide a gallery of services in an attractive and handy way, describing legal solutions your office offers. If there is a team of lawyers working for your office, Law Business theme provides a great way to showcase attorney personal profiles.
One of the greatest benefits of LawBusiness theme by cmsmasters is a fantastic simplicity of website management it offers. Custom visual composer provides an easy content formatting within drag-and-drop interface. A collection of great shortcodes allows you create diverse and attractive pages.
To make sure your law office gets more clients, Law Business theme has sophisticated SEO options for each of the pages and posts. You can add custom meta for each of them. Valid and optimized HTML5 and CSS3 code help to make sure your Law Offices site is well crawled and indexed by search engine to improve your search performance.
LawBusiness was featured among the best lawyer WordPress Themes on PremiumCoding.
See Law Business Theme main features:
Full Features List for LawBusiness – Attorney & Law WP Theme:
23 Custom Shortcodes – Law Business theme includes 23 custom shortcodes, developed by cmsmasters that will help you create really diverse and interactive pages. All shortcodes are in-built into a handy drag'n'drop editor that allows you easily create lawyer profile, legal services and other law related content.
Custom Admin panel – we have greatly extended initial WordPress admin to provide you with more functionality that includes a wide variety of options and settings and provides maximum customization flexibility to help you create a fantastic law office website.
Valid CSS3 and HTML5 – valid code and optimized structure is one of the key points for a successful website that will be successfully crawled and indexed by search engines. You need this for good presentation in search results.
Helpful Customer support – our support is always noted by our customers as fast, helping and professional. We care about this status and do our best to make website maintenance easier for you, providing effective troubleshooting.
Detailed Theme Knowledgebase – theme documentation covers all the possible questions, so that even a newbie can
succeed to create a great website in a reasonable time. Many screenshots from admin panel and front-end to make it even easier.
Custom Widgets – the theme includes a large collection of custom widgets, that allow even more content management possibilities and provide advanced options for social networks, like Flickr, Facebook and Twitter. You can create law related website and improve its presentation with fantastic and handy widgets.
Layer Slider & Revolution Slider – LawBusiness theme comes with two popular slider plugins included, a Layer and Revolution Slider, both have supreme functionality and breathtaking effects. No need to purchase them, it's all in!
Drag'n'Drop Content Composer – the Drag'n'Drop content composer makes content management be playfully easy, simply add the needed element, resize it in a couple of clicks and rearrange the page elements simply dragging them through your editor.
Custom Post Types – Law Business has 2 custom post types in-built: services and testimonials. Both are highly usable for a attorney website, you can add services with various features included, choose any content and shortcodes to add. You can create lawyer profiles, add various legal services, like legal representation, court consultation, criminal and civil legal help etc.
Responsive Layout – Legal theme has a responsive layout that will respond to your screen width and make content appearance be perfect on all devices, from large desktop screens to mobile phones and tablets.
Retina Ready Theme for WordPress – Retina displays set special demands to websites, and lawbusiness theme is developed to have an ultimate performance on all retina displays, providing premium presentation quality for your website elements.
Custom Page Backgrounds – you can set a custom background for any page and post on your website, as well as define in for the whole website in general. Choose color or image background and set repeat type and positioning to it.
Unlimited Menu Colors – unlimited color possibilities for you main navigation and many other website elements lets you adapt your website appearance to your company style. You can set any color to each of your menu elements.
Either you are creating a law office website, a private attorney service page, you will find a lot of useful functionality.
Note: All the content images are not included in the main download.
Qualified support and FAQ's
This WordPress theme as well as all other our products is provided with detailed How-To descriptions. We also care that our customers always get professional help using our products.
Cooperation
If you are a talented designer, photographer or illustrator, and you have some works that you wish to be displayed in our demo previews, go ahead and contact us: we are open for cooperation!
Changelog

- ver.1.0 - Release!
- ver.1.1 - Contact Form 7 performance improved; 
             - logo & navigation appearance; 
             - post type shortcode appearance;
             - timeline template improved;
             - main menu mobile presentation fixed; 
                     - header social icons functionality fixed;
- ver.1.1.1 - contact form functionality;
             - header social icons performance;
             - person block button performance;
             - non-responsive performance; 
             - image scale functionality.
- ver.1.2.0 - ipad performance;
             - shortcodes visual performance;
             - non-responsive performance; 
- ver.1.3.0 -  Update for WP 4.1
             - minor fixes;
- ver.1.5.0 -  touch rollover update
- ver.1.6.0 -  Plugin activation update
             - Logo appearance update
             - other minor fixes
- ver.1.6.6 - WP 5.5 compatibility