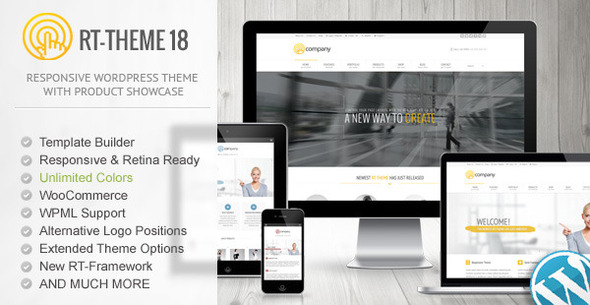 Latest Update: November 28, 2022 – v3.2.2 – changelog
RT-Theme 18 is a responsive premium WordPress theme with powerful CMS tools. You can use it for business, corporate, product catalog, services, or portfolio websites. The product and portfolio tools also give you wide opportunities to use various services such as tour itineraries, rent a car, real estate, hotel presentations, and much more.
RT-Framework offers a rock-solid theme back-end with tons of useful tools and options.
Customer Reviews for RT-Theme 18
"WOW Impressive Theme, Super flexible… I have worked work with more than 75 themes I can say this is on the top I have seen. Powerful"
– JavierDesigns

"Hi Tolga, I believe this is your best theme ever!!!. You added an unbelievable amount of features, shortcodes, abilities. All has become adjustable. And I see a huge amount of features added which your customers requested in the past. Great tutorials and documentation and the theme look fabulous. Good luck with the sales on rt18. "
– BackuPs
"All in one, great job! "
– miseld

"This is my 5th theme I have purchased from this developer and each one is more impressive than his last! "
– terryatsm

"Everything 5 stars!"
– cmsadmin

"Amazing design and one of the easiest, most flexible themes I've used to date. Well done! "
– nategarrett

"This developer offers not only the finest constructed themes, but the best customer support! "
– NowAge

"Just dropping in to say thanks for such a great theme! This theme is FULLY customizable, and the support is some of the best I've had on TF. Recommend it to anyone. Keep up the great work!"
– CRobson

"Lots of reasons to rate this theme 5 stars 1. Great design quality 2. Good code quality 3. Amazing flexibility & customizability 4. Good documentation and best of all 5. Quick and helpful customer support!!!"
– gsvnpraveen

"Very nice Theme I like it so much !! Great features and exelent design, simple and clean, with a really powerfull cms tools. Wonderful work. And with it a great tutorial and documentation ! Just Perfect, nothing to say !! "
– mak_titi

"The best template I purchased. Congratulations to the creator is a very professional job. I am happy with this purchase"
– formatov

"This is truly a first-class product! I am amazed at the flexibility and freedom that one has to customize this theme. This author/developer is definitely one to watch for even more professionally designed products. Thank you for making my life so much easier! "
– innovat1

"Hi! I didn't find where to rate your theme more than 5 stars .. so sorry I only rated it 5 stars ! Congrats. "
– Nicolas Stauffer, Studio Ginkgo

"The best theme I bought without any doubt. It is a perfect theme. RT-Theme 17 is very very good but this is better. You have all options without programming any line. Template builder is very nice. Congratulations for this perfect work. "
– jolona

"I have been purchasing many themes on TF and this is my third purchase from Tolga. Very well designed themes, that can be customized just as easily. Each new theme is better than the previous. What I like most is that Tolga listens to every client's requirements and makes it a feature if he finds it worthy enough. "
– anvith3

"Great Theme, if the best one of the best themes I have ever used. Congratulations. "
– Roderswiss

"This is a great theme to work with. I just love it. Thanks for developing it. "
– alderinos

"One of the best themes I worked with so far. thanks alot "
– mssolutions

"excellent themes & excellent customer support. keep up the good work & patience with your clients. haha! "
– rockstarmediaSA

"Best template I've used thus far. With the ability to customize it to meet my needs, also the dedication the author has (stmcan) is fantastic they keep you up todate with emailed updates. Simply the best WP template ThemeForest has. "
– rssgmatt

"This theme is great! It's mega customizable and full of options. Easy to set up. Great work! "
– rimlightstudio

"Flexible and easy to configure, excellent support. A+"
– jcvivien

"Superb support and a very structured architecture that enables the greatest flexibility I have seen so far… "
–
mySEOstar

"Best theme out there and the customer support is terrific! "
– kchelf

"This template is so beautiful and flexible. I've seen a few websites built with the same theme and they don't look anything alike at all. Customer support is very friendly, fast and efficient. Anyone deciding to buy this theme can rest assured that they will be in good hands and helped whenever in need. Awesome product and very well priced too! "
– Sandbone

"I have downloaded over 100 items here and have the most popular themes, but this one is distinctly different. At first, I was not sure, but after playing with it a bit, I decided this is the way WP Themes ought to be done extending CMS. Clean, professional, the template manager is utterly outstanding. It is a practical design oriented towards usability. So many themes here are "bloatware". This is lean, mean and professional. "
– rleeheath

"Just great theme! I am Russian and could set up corporate website for my client on 3 languages in 2 days without any help or even reading documentation. THANK YOU guys! "
– INVISIBLE-DESIGN

Key Features
Responsive Design
Amazing Template Builder
(Customizing a Page With Template Builder)

Create unlimited tempaltes and use it with any page/post you want.
Create a slider easily.
Many Layout Posibilities
30 modules
Easy to use user interface
Import, export, clone templates
Control header & footer contents for each tempalate
Add unlimited content rows and style them individually
Ability to chose a left or right sidebar for the each row in the same template.
Easily create google maps with multiple locations
Add pre-styled contents or create yours
Manage tabular contents, accordion contents and list with icons with a drag&drop user interface.
Add your products, portfolio, testimonials, team members or blog posts in any tempalte with extented options.
Add carousels with just a click! Available for products, portfolio, testimonials or blog with different layout options.
By using default content module control multiple content's design within a single template. That makes the builder a real template builder!
Call any sidebar locaiton with a module

Extended Theme Options (screenshots)

Header & Footer Options

Control the logo position
2 widget areas available to use for next or before the logo
Control the layout of footer widgets
Add a slogan text and customize it's position
Add a slogan text and customize it's position

Sidebar Creator

Create unlimited sidebars.

Typography options (screenshot)

Use many Google fonts
Control font sizes

Styling Options (screenshot)

Control all colors
Change the skin

Shortcodes & Shortcode Helper (screenshot)

Access the theme shortcodes from any page
Edit and insert your content quickly
Find all information about a shortcodes

5 Custom Widgets

Flickr
Recent Posts
Popular Posts
Contact Info
Testimonials

Internationalized and Translation ready

Works great with the WPML plugin
master .po file included
RTL support

Product Showcase (screenshots)

Custom Product Posts
Tabbed Single Product Page
Choose icons and customize the names of the tabs
Show Related products
Add unlimited photo for a single product
Fullwidth, right or left sidebar options

Portfolio Pages
(screenshots)

Custom Portfolio Posts
Unlimited Layout Options
Supports image,video portfolio items
Grabs thumbnails from Vimeo and YouTube automatically
Fullwidth, right or left sidebar options

Optional Functionality

100% Responsive Theme – Enable/disable responsive design
Enable/disable the floating sidebars
Enable/disable the sticky main navigation
Enable/disable the WPML plugins language selector
Change the default sidebar position

SEO Optimized
WooCommerce Support
Sefl-Hosted Video & Audio support for portfolio and blog
Valid HTML5 Markup
Cross browser support
PSD files included
Dummy Content included
Theme Update Notifier
UPDATES
IMPORTANT NOTE: UPDATING TO RT-THEME V2+

-—————————————————————————————
RT-Theme 18 - v 3.2.2 - November 28, 2022
—————————————————————————————
* Improved — WordPress 6.1 compatibility
* Improved — WooCommerce 7.1 compatibility 
* Updated —  Slider Revolution Plugin v6.7.7 
* Updated —  RT-Theme 18 Extensions Plugin v2.2.2

-—————————————————————————————
RT-Theme 18 - v 3.2.1 - August 28, 2022
—————————————————————————————
* Improved — WordPress 6.0.1 compatibility
* Updated —  Slider Revolution Plugin v6.5.31
* Improved — Bundled plugin management
* Updated —  RT-Theme 18 Extensions Plugin v2.2.1

-—————————————————————————————
RT-Theme 18 - v 3.2 - March 28, 2022
—————————————————————————————
* Improved — WordPress 5.9 compatibility
* Improved — Elementor 3.6 compatibility   
* Updated —  Slider Revolution Plugin v6.5.19
* Updated —  WPBits Pro Addons for Elementor v1.0.3
* Updated —  RT-Theme 18 Extensions Plugin v2.2

-—————————————————————————————
RT-Theme 18 - v 3.1 - August 21, 2021
—————————————————————————————
* Improved — WordPress 5.8 compatibility
* Fix - Custom mobile menu color issue 
* Updated —  Slider Revolution Plugin v6.5.7
* Improved —  WooCommerce 5.6 compatibility 
* Updated —  RT-Theme 18 Extensions Plugin v2.1

-—————————————————————————————
RT-Theme 18 - v 3.0.1
—————————————————————————————
* Fix - Missing heading tag issue of the carousel headings
* Updated —  RT-Theme 18 Extensions Plugin v2.0.1

-—————————————————————————————
RT-Theme 18 - v 3.0.2  - June 9, 2021
—————————————————————————————
* Fix - Mobile menu position  

------------------------------------------------------------ 
RT-Theme 18 - v 3.0  - June 8, 2021
------------------------------------------------------------ 
* New —  Elementor Support
* New —  WPBits Pro Addons for Elementor included for free ( https://wpbits.net )
    * Header/Footer/Archive page builder
    * Site Navigation
    * Theme Builder
    * Slider
    * Reveal Effects
    * Woo Carousel Master
    * Woo Grid Master
    * Carousel Master
    * Grid Master
    * Flip Box
    * Scroll Effects
    * CSS Animations
    * Image Effects
    * Parallax Effects
    * One Page Navigation
    * Ready to use templates
    * and more…
* New —  One click demo import
* New —  Export / Import theme options
* New —  Auto updates for the theme and the bundled plugins
* Improved — PHP 8 compatibility
* Improved — WordPress 5.7.1 compatibility
* Improved —  WooCommerce 5.3 compatibility 
* Improved —  Admin pages 
* Improved —  Plugin compatibility
* New —  Better mobile menu
* Improved —  WPML compatibility 
* Improved —  Breadcrumb menus
* Updated —  Slider Revolution Plugin v6.4.11 
* Updated —  RT-Theme 18 Extensions Plugin v2.0

------------------------------------------------------------ 
RT-Theme 18 - v 2.3  - December 22, 2020
------------------------------------------------------------ 
* Improved —  WordPress 5.6 compatibility 
* Improved —  WooCommerce 4.8.0 compatibility 
* Updated —  Slider Revolution Plugin v6.3.3 

------------------------------------------------------------ 
RT-Theme 18 - v 2.2.1  - August 20, 2020
------------------------------------------------------------ 
* Fixed  —  Multi-column menu UI bug 
* Update —  Slider Revolution Plugin v6.2.22
* Update —  RT-Theme 18 | Extensions Plugin v1.2.1

------------------------------------------------------------ 
RT-Theme 18 - v 2.2  - August 13, 2020
------------------------------------------------------------ 
* Added —  WordPress 5.5 support
* Improved — WooCommerce compatibility   
* Improved — POT file
* Update —  Slider Revolution Plugin v6.2.19
* Update —  RT-Theme 18 | Extensions Plugin v1.2

------------------------------------------------------------ 
RT-Theme 18 - v 2.1  - March 27, 2020
------------------------------------------------------------ 
* Added —  WordPress 5.4 support
* Added —  PHP 7.4 support  ( note that Layer Slider plugin doesn't fully support PHP 7.4 )
* Added — WooCommerce 4 support  
* Update —  Slider Revolution Plugin v6.2.2
* Update —  Layer Slider Plugin version 6.9.2
* Update —  RT-Theme 18 | Extensions Plugin v1.1

------------------------------------------------------------ 
RT-Theme 18 - v 2.0.2  - June 28, 2019
------------------------------------------------------------ 
* Fix —  Issue fixed on the testimonial link texts 
* Fix —  Mobile menu icon alignment issue fixed on RTL websites 
* Fix —  Improved PHP support for older versions 
* Fix —  Invisible WooCommerce options
* Fix —  Breadcrumb menu start pages issue

------------------------------------------------------------ 
RT-Theme 18 - v 2.0.1  - June 6, 2019
------------------------------------------------------------ 
* Fix —  The wrong version number issue has been corrected

IMPORTANT NOTE:  Custom posts and tools such as Template Builder and theme options have been moved to a separate plugin called "RT-Theme 18 Extensions Plugin". You can install the plugin via the "Appearance / Install Plugins" page upon updating the theme. 

------------------------------------------------------------ 
RT-Theme 18 - v 2.0  - June 5, 2019
------------------------------------------------------------ 
* Added —  RT-Theme 18 Extensions Plugin v1.0
* Updated —  Language (.pot) file has been updated. Some of the WooCommerce related strings need to be re-translated.
* Improved —  Several WordPress compatibilities and security improvements
* Improved —  Several CSS improvements
* Improved —  WooCommerce compatibility 
* Fix —  Slider color customization 
* Updated —  Slider Revolution Plugin v5.4.8.3 
* Updated —  Layer Slider Plugin version 6.8.4

------------------------------------------------------------ 
RT-Theme 18 - v 1.9.9.5   - December 6, 2018
------------------------------------------------------------ 
* New—  WordPress 5.0 and Gutenberg editor compatibility 
* Fix  —  HTTPS issue within the video in the lightbox
* Improved  —  WP-Members plugin compatibility improved 
* Improved  —  Structured data of the breadcrumb menu improved
* Improved  —  Icon selection window
* Fix  —  Bug fixed on comments when closed
* Fix  —  WooCommerce string 'Related products'
* Improved  —  GDPR compatibility 
* Improved  —  WooCommerce 3.5+ compatibility
* Updated —  Slider Revolution Plugin v5.4.8.1
* Updated —  Layer Slider Plugin version 6.7.6

------------------------------------------------------------ 
RT-Theme 18 - v 1.9.9.4 - April 29, 2018
------------------------------------------------------------ 
* Fix  — Template redirection issues fixed between Template Builder and WooCommerce. 
* Fix  —  Issue on sticky sidebars when the content has carousels
* Fix  —  WooCommerce template notices
* Improved — Added PHP 7.2 compatibility  ( theme only, Slider Revolution and Layer Slider may have issues with PHP 7.2 )
* Updated —  Slider Revolution Plugin v5.4.7.3
* Updated —  Layer Slider Plugin version 6.7.1

------------------------------------------------------------ 
RT-Theme 18 - v 1.9.9.3 - February 22, 2018
------------------------------------------------------------ 
* New — Telegram and WhatsApp added to the social media list
* Update — WooCommerce 3.3.2 support added.
        IMPORTANT NOTES: 
        * Dropped support for older versions than WooCommerce 3.3.2
        * Visit Customize -> WooCommerce -> Product Images to redefine image sizes. The old image size options have been removed.  
* Fix  — Https compatibility issue with youtube videos in lightbox window  
* Fix — Fullscreen issue fixed on HTML5 videos
* Update —  Slider Revolution Plugin v5.4.7.1
* Update —  Layer Slider Plugin version 6.7.0


------------------------------------------------------------ 
RT-Theme 18 - v 1.9.9.2 - November 17, 2017
------------------------------------------------------------ 
- Improved: WordPress 4.9 compatibility  
- Fixed: Issue fixed on sticky sidebars
- Fixed: PHP error on WooCommerce cart link
- Improved: WooCommerce compatibility 
- Updated: Slider Revolution Plugin version 5.4.6.3.1
- Updated: Layer Slider Plugin version 6.5.2

------------------------------------------------------------ 
RT-Theme 18 - v 1.9.9.1 - November 6, 2017
------------------------------------------------------------ 
- Added: Group parameter to the auto_thumb shortcode
- Fixed: WooCommerce template notice
- Fixed: Javascript issue fixed on the Android version of Chrome   
- Improved: Better sticky sidebars. 
- Updated: Slider Revolution Plugin version 5.4.5.1
- Updated: Layer Slider Plugin version 6.5.1

------------------------------------------------------------ 
RT-Theme 18 - v 1.9.9 - July 7, 2017
------------------------------------------------------------ 
* Fixed: Product visibility issue on WooCommerce Product Posts and WooCommerce Carousel module. 
* Added: Blank page template (page without header and footer)  added for posts and pages. 
* Fixed: Admin scrollbar issue
* Improved: Search field in the top bar
* Updated: Slider Revolution Plugin version 5.4.5.1
* Updated: Layer Slider Plugin version 6.5.1

------------------------------------------------------------ 
RT-Theme 18 - v 1.9.8 - April 9, 2017
------------------------------------------------------------ 
* Added: WooCommerce 3.0 support. Single product pages now use the new default gallery and lightbox of the plugin. New options added to the RT-Theme 18 > WooCommerce options to disable image zoom and lightbox. If you update manually via FTP - don't forget to delete /rttheme18/woocommerce/single-product/product-image.php and rttheme18/woocommerce/single-product/tabs/additional-information.php files. IMPORTANT NOTE: The WooCommerce 3.0 was a major update and RT-Theme 18 now only supports WooCommerce 3.0 and higher versions. 
* Fixed: Broken image gallery issue fixed on gallery post formats
* Fixed: Portfolio module display titles and description bug
* Added: Ability to replace URLs when importing templates to the Template Builder
* Fixed: Fixed the "undefined" text issue on compare tables on mobile.
* Updated: Slider Revolution Plugin version 5.4.1
* Updated: Layer Slider Plugin version 6.3.0

------------------------------------------------------------ 
RT-Theme 18 - v 1.9.7.1 - December 24, 2016
------------------------------------------------------------ 
Fixed: Broken image and lightbox link issue fixed

------------------------------------------------------------ 
RT-Theme 18 - v 1.9.7 - December 16, 2016
------------------------------------------------------------ 
Fixed: Mobile search form displaying issue on mobile phones
Improved: WooCommerce compatibility. 
Improved: Several CSS fixes.
Updated: Icon font file updated and .woff2 version added.
Improved: WPML compatibility 
Updated: Slider Revolution Plugin version 5.3.1
Updated: Layer Slider Plugin version 6.1.0 - IMPORTANT NOTE: If you having issues while updating the plugin, delete the old version first then install again via Appearance > Install Plugins. 

------------------------------------------------------------ 
RT-Theme 18 - v 1.9.6 - July 7, 2016
------------------------------------------------------------ 
Added: Black and white map option added to the Google Maps module. 
Added: Ability to use own Google Maps API key. (RT-Theme 18 > General Options / Google Maps ) Refer this documentation for more info http://docs.rtthemes.com/document/how-to-generate-a-google-api-key-of-your-own/
Updated: Slider Revolution Plugin version 5.2.6
Updated: Layer Slider Plugin version 5.6.9

------------------------------------------------------------ 
RT-Theme 18 - v 1.9.5.1 - June 25, 2016
------------------------------------------------------------ 
Fixed: WooCommerce 2.6.1 category product visibility issue. Changed file: /rttheme18/woocommerce/archive-product.php

------------------------------------------------------------ 
RT-Theme 18 - v 1.9.5 - June 24, 2016
------------------------------------------------------------ 
WooCommerce 2.6 support added. RT-Theme 18 now only supports this version. If you don't want to update your WooCommerce plugin, you can just keep your old templates. /rttheme18/woocommerce/
Improved admin panel loading speed
Improved: RTL cart page view
Updated: Slider Revolution Plugin version 5.2.5.4

------------------------------------------------------------ 
RT-Theme 18 - v 1.9.4 - May 23, 2016
------------------------------------------------------------ 
Fixed: Thumbnail edit issue on product categories 
Fixed: Top bar search field width fixed on Chrome
Updated: Media Element Player updated
Updated: Slider Revolution Plugin v5.2.5.1
Updated: Layer Slider Plugin v5.6.8

------------------------------------------------------------ 
RT-Theme 18 - v 1.9.3 - April 15, 2016
------------------------------------------------------------  
Fixed: Javascript error on tabs that started with WordPress 4.5 ( /rttheme18/js/jquery.tools.min.js )
Fixed: Misplaced sub menu issue on sticky header bar when there is no logo image (header-design1.php )

------------------------------------------------------------ 
RT-Theme 18 - v 1.9.2 - April 15, 2016
------------------------------------------------------------  
Improved: WordPress 4.5 support 
Updated: Slider Revolution Plugin v5.2.4.1 ( note: Please update your Slider Revolution to the new version if you still using one of the 4x versions. 4x versions of the plugin will cause some update problems in the future updates of the theme.  )
Updated: Layer Slider Plugin v5.6.5 (note: the slug name of the plugin has been changed by the plugin author. You may need to delete the old one before install the new version)

------------------------------------------------------------ 
RT-Theme 18 - v 1.9.1 - March 14, 2016
------------------------------------------------------------  
Fixed: Empty top slogan and footer text issue fixed that causing by 1.9 update 

------------------------------------------------------------ 
RT-Theme 18 - v 1.9 - March 14, 2016
------------------------------------------------------------  
Fixed: Blank pagination links issue when a template assigned page set as front page
Fixed: Conflict fixed between author post list page and template builder
Fixed: Blank Revolution Slider list on Template Builder on some WPMS installations
Improved: PHP 7 support
Fixed: Styling issues on products within post contents 
Fixed: Errors fixed for single posts on Google's Structured Data Testing Tool 
Updated: WooCommerce 2.5 support added. IMPORTANT NOTE: The theme is no longer support the older versions than WooCommerce 2.5
Updated: Slider Revolution Plugin v5.2

------------------------------------------------------------ 
RT-Theme 18 - v 1.8.3 - December 24, 2015
------------------------------------------------------------  
Fixed: Addresses the double tapping bug on IOS devices which started after IOS 8.4.1 
Fixed: Top bar mini cart translation bug fixed ( items text )
Fixed: Title's line CSS issue on Chrome 
Fixed: Product category display issue when the main category has a child.
Fixed: Issue fixed on breadcrumb menus when a page has more than two parent pages.
Updated: Slider Revolution Plugin v5.1.5
Updated: Layer Slider 5.6.2

------------------------------------------------------------ 
RT-Theme 18 - v 1.8.2 - August 20, 2015
------------------------------------------------------------ 
Improved: WordPress 4.3 compatibility
Improved: WooCommerce 2.4.4 compatibility
Improved: WooCommerce demo store message position improved. It will be displayed as a sticky bar at the bottom of the pages.
Improved: WooCommerce cart CSS for RTL languages
Improved:  Sticky sidebar improved for Chrome
Updated: Layer Slider v5.5.1

Please note: We have tested the latest version of Revolution Slider and found some issues. We are waiting for them to be fixed before include it to the theme.

------------------------------------------------------------ 
RT-Theme 18 - v 1.8.1 - July 13, 2015
------------------------------------------------------------ 
Improved: Ability to accept multiple class names for rows.  [ Template Builder  ]  
Updated: Slider Revolution Plugin v4.6.93
Updated: Layer Slider 5.5.0
Improved: Search functionality for WPML plugin

------------------------------------------------------------ 
RT-Theme 18 - v 1.8 - April 30, 2015
------------------------------------------------------------ 
Added: Ability to add thumbnail images to product categories
Added: New options to Product Options for category display. Check the "CATEGORY DISPLAY OPTIONS" 
Added: New shortcode [product_categories] for listing product categories with thumbnails and descriptions
Added: New module [product_categories] for listing product categories with thumbnails and description  [ Template Builder ]
Added: Ability to add custom CSS class names to content rows [ Template Builder  ]
Improved: Contact form improved
Updated: Revolution Slider plugin 4.6.92 ( includes a security fix, it is recommended to update )

------------------------------------------------------------ 
RT-Theme 18 - v 1.7.2 - April 22, 2015
------------------------------------------------------------ 
Updated: TGM plugin activation class
Fixed: Small CSS fix for WooCommerce including active filters and price filter
Fixed: Invisible icon selection window when logged in as not administrator account 
Improved: CSS code improved to fix IE issues over the buttons of the lightbox window that comes with WooCommerce
Fixed: Problem fixed on portfolio filter navigation bar when categories selected
Fixed: Double tap issue on the main navigation items for iPad landscape screen.
Fixed: Gmail navigation tools positions issue fixed
Fixed: Permission issue fixed with "Author" users to upload image galleries
Improved: RTL CSS
Fixed: WooCommerce my account link for WPML plugin
Fixed: Double cart totals issue on WooCommerce cart page.

------------------------------------------------------------ 
RT-Theme 18 - v 1.7.1 - February 17, 2015
------------------------------------------------------------ 
[Recommended update for everyone. Includes a security fix and WooCommece 2.3+ compatibility]

Improved: Security improvement
Added: WooCommerce 2.3+ compatibility
Fixed: Invisible project details and post navigation issues on single portfolio or single product page when assigned with a template
Fixed: Missing social media icons in lightbox 
Fixed: Contact form submit messages fixed for WPML
Improved: Sticky logo and drop down menu CSS 

------------------------------------------------------------ 
RT-Theme 18 - v 1.7 - February 5, 2015
------------------------------------------------------------ 
Updated: WooCommerce categories list layout is now customizable via RT-Theme 18 -> WooCommerce Options
Fixed: Pagination issue on archive pages
Improved: RTL compatibility
Fixed: Portfolio filter issue fixed for RTL websites 
Fixed: Contact form security question issue of cached websites
Fixed: Fullscreen youtube videos issue on google chrome
Fixed: Google Map module style fixed on template builder

------------------------------------------------------------ 
RT-Theme 18 - v 1.6.1  - December 28, 2014
------------------------------------------------------------ 
Fixed: Several problems fixed on the Template Builder including disappeared modules upon added, cloned or closed. This was an incompatibility issue with jQuery that comes with WordPress 4.1
Improved: Template Builder import functionality 

------------------------------------------------------------ 
RT-Theme 18 - v 1.6  - December 26, 2014
------------------------------------------------------------ 
Fixed: Show/hide author name bug fixed on blog post listing pages
Fixed: Media library page search issue fixed on attach screen
Improved: Mobile menu. The menu open/close icons are now bigger and easier to tap.
Added: [Template Builder] pagination option to WooCommerce Products (Extended) module
Fixed: Wrong page indicator on pagination for products, portfolio, and testimonial items when used in the home page
Fixed: Miss-alignment issue with Horizontal Chained Content boxes on IE
Fixed: Logo dimension issue in sticky nav bar
Fixed: Unclickable zoom icons issue on google maps with RTL language
Fixed: Not displaying private post issue with product, portfolio, testimonial, blog shortcodes
Improved: changed main style.css loading order. Moved to the last.
Fixed: PHP warning message on portfolio lists. (after WordPress 4.1)
Fixed: Wrong page links of the pagination when permalinks not activated (after WordPress 4.1) 
Updated: Layer Slider plugin
Updated: Slider Revolution plugin 
Added: "title-tag" support and remove hard-coded <title></title> from header.php

------------------------------------------------------------ 
RT-Theme 18 - v 1.5 - October 11, 2014
------------------------------------------------------------ 
Improved: Markup for SEO improved.  Single post titles replaced with H1's. Added Google hatom-feed and structured data compatibility to blog posts and products. 
Improved: button shortcode
Improved: RTL compatibility improved. PLEASE NOTE: If you have an RTL website, you must re-order your columns in the template builder and navigation menus to have the correct order on mobile screens.
Improved: Saving custom fields that address the template assign issue to custom post types.    
Improved: Retina logo functionality. This resolves hidden logo issues on some websites.
Improved: functions.php improved to allow re-branding with a child theme
Fixed:  https compatibility issue on embedded google map shortcode
Fixed: pagination issue 
Fixed: [WPML] attachment translation issue is fixed in light boxes.
Fixed: Contact form translation issue
Fixed: Blog posts pagination issue when a template set as a home page.
Fixed: [WooCommerce] cart page styling issue fixed on mobile phone screens.
Fixed: Search box styling issue on Safari 7.1 
Fixed: a CSS bug fixed in "Gold Beige Style" color schema

------------------------------------------------------------ 
RT-Theme 18 - v 1.4.2 - August 29, 2014
------------------------------------------------------------ 
Fixed: Retina logo dimension issue when switching between landscape and portrait on tablets
Fixed: Carousel dimension issue when switching between landscape and portrait on tablets
Improved: Vertical tab styles.
Improved: Search box functionality that inside the top for mobile devices
Fixed: Invisible page comments issue when a page assigned to a template
Improved: RTL compatibility
Fixed: An issue with special characters on custom CSS codes
Fixed: Broken product images and related product carousels when page titles contain special chars.
Improved: Removed idle <p></p> tags from content box module, the content box with icon module and similar modules when the content is completely empty. 
Improved:  Google maps height delimited up to 200px for small mobile screens for better scrolling.
Updated: Revolution Slider version 4.6.0
Updated: Layer Slider version 5.2.0

------------------------------------------------------------ 
RT-Theme 18 - v 1.4.1 - July 25, 2014
------------------------------------------------------------ 
Updated: Revolution Slider version 4.5.95
Fixed: Custom icons set visibility issue on admin panel
Fixed: Removed extra line from the sidebar of a single portfolio page when project details is empty 

------------------------------------------------------------ 
RT-Theme 18 - v 1.4 - July 12, 2014
------------------------------------------------------------  
Added: New header design
Fixed: Styling issue fixed on "Related Products" and "Up-Sell Products" of WooCommerce
Fixed: Extra space issue under the layer slider on small screens
Improved: Main navigation for landscape screen of iPad
Improved: Support for column shortcode usage in Accordions and Tabular content
Updated: Revolution Slider version 4.5.9
Fixed: Translation issue with the start page of a breadcrumb menu. [WPML plugin]
Updated: Navigation bar width/style selection ported to Header Options page

------------------------------------------------------------
RT-Theme 18 - v 1.3.4.1 - June 25, 2014
------------------------------------------------------------
Fixed: Wrong category list inside the WooCommerce product posts (extended) module 

------------------------------------------------------------
RT-Theme 18 - v 1.3.4 - June 25, 2014
------------------------------------------------------------
Added: WooCommerce carousel shortcode and template builder module
Added: New extended WooCommerce products shortcode and template builder module
Improved: RTL support
Improved: Styling of line with circle on WooCommerce widgets for IE  
Fixed: Layout issue in some cases with WooCommerce product_category shortcode and template builder module
Fixed:  Number of related products issue on single WooCommerce pages.
Fixed: Invisible embedded cart/link icon issue on product images issue fixed for WooCommerce products
Updated: .po file
Updated: Slider Revolution version 4.5.6

------------------------------------------------------------
RT-Theme 18 - v 1.3.3 - June 04, 2014
------------------------------------------------------------
Added: Pagination and post limit options to testimonials shortcode & module
Added: Space shortcode
Improved: RTL support
Improved: Page loading effect and Grayscale filter improved for Safari
Improved: Content animations for IE
Fixed: Flickering sticky menu issue on small screens

------------------------------------------------------------
RT-Theme 18 - v 1.3.2 - June 01, 2014
------------------------------------------------------------
Fixed: Invisible photo gallery items in single portfolio & blog posts 
Improved: Single product pages of Product Showcase
Fixed: style selection issue fixed on blog carousel module [ Template Builder ]
Fixed: Invisible content blocks on mobile devices when content animations is active

------------------------------------------------------------
RT-Theme 18 - v 1.3.1 - May 30, 2014
------------------------------------------------------------
Updated: Layer Slider plugin
Updated: Slider Revolution plugin 
Fixed: WooCommerce product categories widget styling
Fixed: WooCommerce add to cart button icon on home pages
Improved: Content animations and fixed invisible sidebar elements and flickering issue when page loading
Improved: Pre-defined styles for new chained contents
Improved: Accordion content CSS codes 

------------------------------------------------------------
RT-Theme 18 - v 1.3 - May 29, 2014
------------------------------------------------------------ 
Added: Showing logo option on the sticky navigation bar ( activate via RT-Theme 18 -> Header Options )
Added: Parallax background option to content rows
Added: Page loading effect  (  activate via RT-Theme 18 -> General Options  ) 
Added: Two new widgets: Product categories and Portfolio Categories
Added: Customize icon color,  icon background color,  icon border color options to content box with icon module/shortcode
Added: Animated contents on scroll down (  activate via RT-Theme 18 -> General Options  ) 
Added: Octangle image style option to content box with image module/shortcode
Added: Alternative image styles that let you turn off the b/w filter on images to content box with image module/shortcode
Added: Vertically or horizontally aligned, chained content blocks with images or icons
Added: "Remove sub-header content area when empty" option added into the Header Options
Added: Use excerpts option added into the blog options. 
Added: Support for breadcrumb of Yoast Seo plugin
Added: Hide/show options for classic add to cart button and the embedded add to cart button into the RT-Theme 18 / WooCommerce Options
Added: Support for password protected content and WP-Members plugin support for Template Builder 
Added: Search option added to the template list of Template Builder  
Improved: Navigation bar styling improved
Improved: Color picker script
Improved: Template builder data handling, import and export options. This is also addressed for corrupted template data issue on some servers after moving database to another domain 
Improved: The link also applied to the featured image and the icon of Content Box With Icon and Content Box With Image modules/shortcodes
Improved: Styling support for Contact form 7 plugin 
Improved: WPML compatibility 
Fixed: Navigation bar styling issue (Half-Width style) on landscape tablet screens
Improved: Content box with image module is improved and if the link is applied to the featured image as well
Fixed: Custom styling issue on subtitles of a sub menu item in multi-column navigations (when mouse over)
Fixed: Extra spacing issue on icons with pins.
Fixed: (IE8) Transparent background color issue for slide titles and background on flex slider
Fixed: Bug on accordion content module style options
Fixed: Bug fixed on compare tables with mobile phones
Fixed: (IE10, IE11) Grayscale image issues
Fixed: typo fixed in the .po file ( Your Message: )
Fixed: Wrong theme version number when a child theme used
Fixed: Wrong layout issue on product and portfolio categories when a shortcode used inside one of the top widget areas

------------------------------------------------------------
RT-Theme 18 - v 1.2.1  - April 17, 2014
------------------------------------------------------------ 
Fixed: custom styling issue with mobile navigation menu

------------------------------------------------------------
RT-Theme 18 - v 1.2  - April 17, 2014
------------------------------------------------------------ 
Added: WordPress 3.9 support
Added: Icon option for the top level items of main navigation bar
Added: foursquare, delicios, forrst, ebay, android, xing, reddit, digg, apple appstore, myspace, amazon and stackoverflow icons
Improved: solved the blank icon selection window issue on some servers
Improved: Theme javascript file updated and debug comment removed from console 
Improved: removed the footer bar completely when footer sidebars do not contain any widgets or any content added with a template. This update may reduce vertical padding of the footer content bar, use space module to fill. 
Fixed: Tabs shortcode style selection bug

------------------------------------------------------------
RT-Theme 18 - v 1.1.1 - April 14, 2014
------------------------------------------------------------ 
Fixed: Sidebar issue on single staff pages that comes with version 1.1
Fixed: Wrong accordion content numbers
Fixed: Post type icons issue on blog lists

------------------------------------------------------------
RT-Theme 18 - v 1.1 - April 11, 2014
------------------------------------------------------------ 
Added: YouTube and SoundClound icons to the social media links
Added: Remove top bar option into the header options
Added: Template builder option added to single staff pages
Added: New tab styles added to template builder's tabs module
Added: Post revisions for products, portfolio, staff, and testimonial custom post types
Added: Visible first content option added to the accordions
Improved: H2 Page titles updated to H1 when a logo image uploaded
Improved: Shortcode functions are pluggable now
Improved: Icon selector and template importer functions improved
Improved: Breadcrumb menu
Improved: Color selectors of theme options
Improved: Button alignments in table shortcodes
Improved: Mouseover effect for product lists disabled for mobile screens for better scrolling
Improved: Header widget & logo placements. 
Fixed: Extra slashes issue in slider module of template builder
Fixed: Custom styling issue on sub-menus of main navigation
Fixed: .po/.mo file updated for missing translation part in the single product pages ( "category" and "categories" texts )
Fixed: Section id (CSS selector) bug fixed on archive pages

------------------------------------------------------------
RT-Theme 18 - v 1.0.4 - April 1, 2014
------------------------------------------------------------ 
Bug fixed: Corrupted CSS  issue on some installations that fail the custom stylings
Bug fixed: Testimonials post count issue fixed. It didn't show more than 10 posts
Improved: Crop feature improved for blog carousel thumbnails.
Improved: CSS codes improved of comments
Improved: Setup Assistant 

------------------------------------------------------------
RT-Theme 18 - v 1.0.3 - March 27, 2014
------------------------------------------------------------
- Bug fixed: Variation select form issue fixed
- Improved: The style of item quantity form of WooCommerce items improved for WebKit browsers
- Bug fixed: fixed bug in the "Sidebar" module of the Template Builder 
- Added: Added filter hook for social media icons 

------------------------------------------------------------
RT-Theme 18 - v 1.0.2   - March 26, 2014
------------------------------------------------------------
- Bug fixed: Fixed the error when "default content" module used in template with a regular post 

------------------------------------------------------------
RT-Theme 18 - v 1.0.1   - March 24, 2014
------------------------------------------------------------
- Bug fixed: PHP error fixed on earlier PHP versions than 5.4


THEME SUPPORT
› User testimonials about our support service
If you would like to receive support, please post on our forum at http://support.rtthemes.com
You will receive much faster support because we can easily see who needs assistance,
and also you'll be able to use search to see if your problem has been solved in the past and find a fix for it without having to wait.
KEEP IN TOUCH