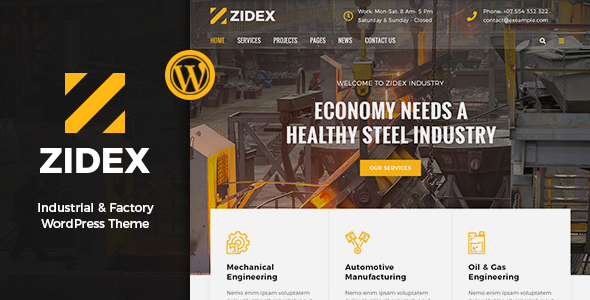 Our brand new Factory WordPress Theme, Zidex was designed for the branch of industry and laboratory or manufactory businesses. To achieve success in the foundry area, your website has to deliver a high-quality service presentation and a top-notch design. Zidex is an Industrial and Engineering WordPress Theme that will focus on your machine services or building projects, but also will open some opportunities for you to start and sell your products. Let`s see what Zidex Factory WordPress Theme is all about.
Industrial Engineer Demo
One of the newest Demo`s we added to this Factory WordPress Theme is "Industrial Engineer". This Demo is dedicated to professionals that work alone or for a company that would like to promote their best engineers. You will have the opportunity to present your projects, your skills and your activity area. On this Page, you can upload content to communicate directly with your customers and deliver information about your constructor skills. You can customise services like Planning, Architecture, Renovation and Construction. This page can highlight your most valuable projects because you can add your descriptions and details about workflow and procedures. If you are a company, you can display the whole team of engineers and add details about their professional training.
Robotics Factory Demo
The Robotics Demo is allowing you to present how your factory can help with the mass production of a product using mechanical engineering, industrial welding robots or fix industrial welding robots. We added a counter on this page because it is essential for an industrial business to build trust. You can display how many projects you`ve had so far, jobs done or anything you might want to display about your forging work. At the bottom of the page, we added a section where you can show some of your recent blog articles. We will discuss more these functionalities later in this description.
Electric Factory Demo
There is a lot to say about this Electric Factory Demo, but we will keep it short. We thought that an electric or any factory project is very important so we managed to develop this page in such a manner that you can highlight the importance of your projects and customise your testimonials. Again it is critical to show numbers. To show how professional can your factory process can go. You can also build an excellent gallery with this page. You can add pictures so your customers can have a glimpse of how productive your industrial work-flow can be.
Construction Factory Demo
This Construction Demo is our way to centralise the whole Construction work that will happen in your factory or company. We were focused on how professional this part of your business can be. You can display service details about any niche you are good at architecture, Planning, Renovation or Construction projects. The "About us" Section is a significant part of this Demo, and we made this functionality available. At the bottom of this Demo page, we added some of our most important features. The "Get a Quote" functionality which we think is a fundamental feature for a manufactory, foundry, machine industry business.
Beer Factory Demo
This is the most wanted Demo because it features the most wanted industry with an excellent requested product. Beer. Designed for any business that is specialised in beer, craft beer, home-made beer, amber brew or any beer made with big or small industrial processes. The Demo will make available some unusual feature which you can use to deliver information about quality, and you can add video material. You can add a section in which will be presented a part of your brewers or engineers. Again you can add a gallery; you can add a counter for any details you want to display. The beer factory Demo is an excellent way to gain customer trust.
Car Factory Demo
Our last Demo is as essential as the others. Maybe it is the most complex Demo because it is related to cars fabrication. Not many businesses are focusing on this type of industry, but we wanted to make sure that you can highlight the importance of your services. We added a ton of features to this Demo with only one purpose so that you can prove how capable your factory is, how professional your team acts and how good your products can be.
Shop via WooCommerce
An E-commerce function could not miss from this beautiful Factory WordPress Theme. In your main Menu section, a Shop will be available for any of your customers. Because it is an Industrial Theme, we did some customisation to the shop section, and now you can add products and make them available for rental purposes. Your customers can select the dates, can see the prices per day and choose the number of excavators (for example) they need for the project. Pretty awesome, right?
Jobs Display Section
We understand the importance of a big company, especially when it is about the industry business. Employers and the right experts are always a valuable resource. You want to be able to recruit the best engineers you can find. We developed a section where you can display any job is free for an expert to take it. You can customise it, add testimonials and much more.
Request quote Feature
A quote is a standard business process whose purpose is to invite suppliers into a bidding process to bid on specific products or services. Don`t you think that this functionality should be available on your future website? For a factory website, this is compulsory. You can use it, and you can add it on any page you like. Get Zidex now! The best Factory WordPress Theme you can find.
Inner Pages List
Full Features List:
RTL Compatibility – added via ModelTheme RTL Compatiblity Plugin – View Details + Download the Free RTL Plugin
WPBakery Page Builder
Slider Revolution
Redux Framework Theme-Options Panel

General Settings
Unlimited Sidebars
Styling Settings
Header Settings
Footer Settings
Contact Settings
Blog Settings
Shop Settings
Social Media Settings
Demo Data Importer

Multiple header variants
One-click importer
600+ Google Fonts
Font Icons instead of images
Well documented
Various Custom Widgets and much more
Multiple Colors & Skins Throughout
Eye-catching CSS Animations
Compatible with: Contact form 7
Permanent updates
Excellent Typography
Optimized for high speed
Fast and easy to use
Zidex Theme can be used for a variety of factoreis and industries:
Flag-carrier airlines
Online holdings
Electronics manufacturing
Web services
Retailers
Hair care products
Automobile, Automotive ,Machinery, bus, trucks etc.
Plastic Industry
Specialty chemicals, Energy
Shipping, logistics, Postal service
Life insurance
Medical devices
Banks
Recycling Factory & Industry
Forge and metal working
Oil & gas Factory
Pharmacy chains
Tobacco Factory
Mobile networks
Construction Company
Aluminum Factory
Air conditioners, engines
Investment management
Fast food chains
Publishing
Outsourcing Companies
Engines, trucks, motorcycles, etc.
Online communities
Cloud computing
Sportwear Factory
Chemicals Factory
Shoes Factory
Electrical conductors
Appliance retailers
Microbrewery
Hotel chains
Energy
Beverages
Consumer electronics, home appliances, mobile phones
Mobile phones, tablets, telecommunication equipment
IT, Radios and telecommunications
Soft drinks
Home appliances
Consumer electronics and games
Sporting goods
Restaurants, condiments
Motorcycles
Technology and social media agency
Department stores
Dairy products, ice cream
Apparel
Appliances
Wind power
Low-cost variety stores
State-owned automotive
Mechanical products
Film production
Commercial banks
Power generation
Television and radio
Steel Factory
Airlines
Generic drug manufacturer
Natural gas
Oil company
Pharmaceticals, traditional medicine
Iron, steel
Research, development, manufacture and commercialization of vaccines
Consulting Companies, Insurance
Photovoltaics (solar cell) manufacturers, Solar energy
Consumer electronics
Telecom equipment, services
Internet, software, mobile phones, online advertising, online gaming
Computer networking devices
Menswear
Real estate company
Paper Factory
Property developer, real estate, hospitality, retail, tourism, culture
Laboratory and manufacturing services
Aircraft
Dairy and ice-cream
Bus manufacturing
Gold mining
Theme Docs
ModelTheme Users Group on Facebook
Getting in touch with the ModelTheme crew and also with other customers of the ModelTheme Themes was never so easy.
Change LOG
Get Theme
Report a Bug
Credits
Fonts Used: Oswald, Montserrat Google Fonts
Images: shutterstock.com – All rights reserved! (Images not included in the theme-package)

Icons: FontAwesome http://fortawesome.github.io/Font-Awesome/
The entire list of credits comes with the package of the theme