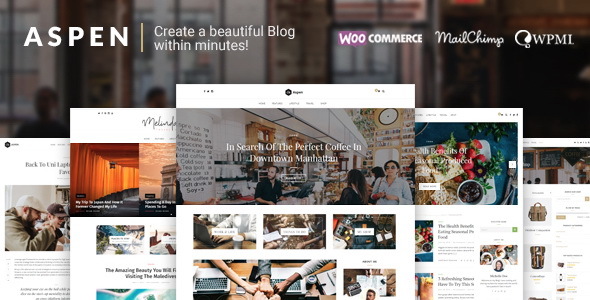 NOT compatible with WordPress 5.5.x
NOT compatible with WordPress 5.5.x
Aspen is the perfect WordPress Blog Theme to bring your stories online and getting your readers engaged with what you have to say!
Easy to install and ready for Gutenberg, the theme comes with a minimal design, focussing on the most important aspect of any Blog, your content! Whether you are a complete novice just starting your own blog or a serious content marketer, who writes on a daily basis, Aspens ease of use and flexibility offer something for any kind of blogger!
Features that do not overwhelm but help you to reach your blogging goals!
While the theme has over 80+ possible layout combinations, supports various plugins such as WooCommerce and comes with custom widgets, it never overwhelms you! We have taken great care to make sure that every option you encounter makes sense and helps you on your blogging journey!
Aspen Features Overview
Easy to customize
Optimized for Gutenberg – Craft beautiful multimedia blog posts using WordPress' new editor.
WordPress Live Customizer – No extra plugins needed. Aspen uses the WordPress Customizer, fast, easy and efficient!
8 Starting Designs – A growing collection of blog layouts that installed in seconds and easy to customize, make a fantastic starting point to get your stories online right away!
80+ Possible Layout Combinations – Change header, blog and footer layouts with a single click and easily give your blog a unique look!
Build with Custom Widgets – Improve your blog with Aspen Widget such as Testimonials, About Me, Social Media or Instagram
Great Plugin Support – Aspen supports WooCommerce, Mailchimp, Yoast SEO and many other great WordPress plugins!
Build to last
SEO Best Practices – Content first, clean code, fully indexable and a meaningful link structure, make Aspen ready for search engines
Constant Updates – Not only do we make sure the theme works with the latest WordPress versions, but we also improve and add new features regularly!
Child Theme Ready – Want to develop yourself? Aspen is child theme ready!
Aspen looks great on any device
100% Responsive and Retina Ready – Whether mobile, tablet or desktop PC, your blog will look stunning with Aspen!
Cross Browser Compatibility – For the best browsing experience, Aspen has been tested with all major browsers!
Free Lifetime Updates
Buy the theme and get access to free updates as soon as they are released. No costly update or subscriptions – you pay only once and get free updates!
Please note that we do not currently provide technical support for any of our items.
You can find the theme's documentation online on our Google Drive.
Updates for Aspen – WordPress Blog Theme

(Excerpt of the change log)
==> Version 2.0.0 (2019-09-21) 
- FIXED: Version bump to address issue with inactive/archived wordpress.org-hosted theme that used same slug
- UPDATE: Bundled templates for third party products.
- UPDATE: Minor template and styling fixes.

==> Version 1.2.5 (2019-05-08) 
- FIXED: Minor styling fixes
- UPDATE: New WooCommerce templates

==> Version 1.2.3 (2019-04-19) 
- FIXED: Minor styling issue affecting mobile menu trigger button visibility
- FIXED: Admin bar created gap on mobile devices with a specific screen size

==> Version 1.2.1 (2019-04-01) 
- FIXED: Minor caching issue affecting sites running WPML.

==> Version 1.2.0 (2019-04-01) 
NEW FEATURES:
- ADDED: Filter to allow to set fixed number of columns for horizontal widget areas 
- ADDED: Option to hide number of comments on archive pages
- ADDED: Quick start page with information for first-time users
- ADDED: Option to not use grey overlay filter on hero images

BUGS FIXED:
- FIXED: HTML in post titles was improperly handled by the breadcrumb navigation
- FIXED: WPML compatibility issues with slider and horizontal widgets 
- FIXED: Some options were not reflected in all post templates (e.g. hide elements)
- FIXED: Theme content below admin bar was not correctly positioned in all cases
- FIXED: Minor design issues

==> Version 1.1.1 (2019-03-16) 
NEW FEATURES:
- ADDED: Hero content & promo widgets now also work on static front page
- ADDED: Envato Market plugin now bundled for theme updates
- ADDED: Optional support for sticky header on mobile devices
- ADDED: Optional logo menu in addition to primary & secondary logos

BUGS FIXED:
- FIXED: Category archive descriptions were partially truncated in some cases
- FIXED: Some embedded media had extra margins
- FIXED: Social sharing icons were ignoring user settings
- FIXED: Error occured when theme widgets were used with other theme
- FIXED: Removed select2 library from backend to avoid conflicts
- FIXED: Removed redundant gap visible when admin bar was hidden
- FIXED: Sharing icons weren't visible when menu on the left

==> Version 1.1.0 (2019-02-26) 
- New Feature: Customize excerpt length for archive pages through WordPress Customizer
- New Feature: Support for third party sliders and arbitrary HTML content in hero area.
- Minor styling fixes for frontend and backend.

==> Version 1.0.21 (2019-02-18) 
- Fixed: Compatibility issue with Yoast SEO resulted in titles not being written correctly
- Fixed: Compatibility with WordPress 4.8.x and 4.9.x
- Minor styling fixes

==> Version 1.0.20 (2019-02-13) 
- New Feature: Added author social icons to author box (single posts & author pages)
- Fixed: In posts created in the "Classic Editor", center-aligned images not rendered correctly

==> Version 1.0.19 (2019-02-12) 
- Fixed: Bug affecting video embeds in 'posts and pages created in Classic Editor

==> Version 1.0.18 (2019-02-09) 
- Fixed: Bug prevented saving of image fields in widget settings
- Fixed: Syntax error caused import issue for some demo packages.
- Fixed: When switching to another theme, the Feature Pack plug-in caused an error message.

==> Version 1.0.16 (2019-02-05) 
- Initial Release

Follow ShapingRain