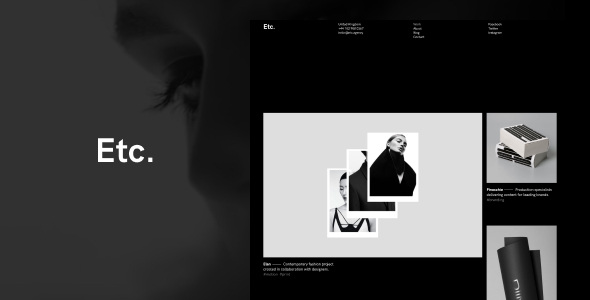 Etc. highlights your most important projects with beautiful, expressive grid, abundant white space and bold typography. By removing common distractions and using a minimal design, users can focus solely on what's important – your content.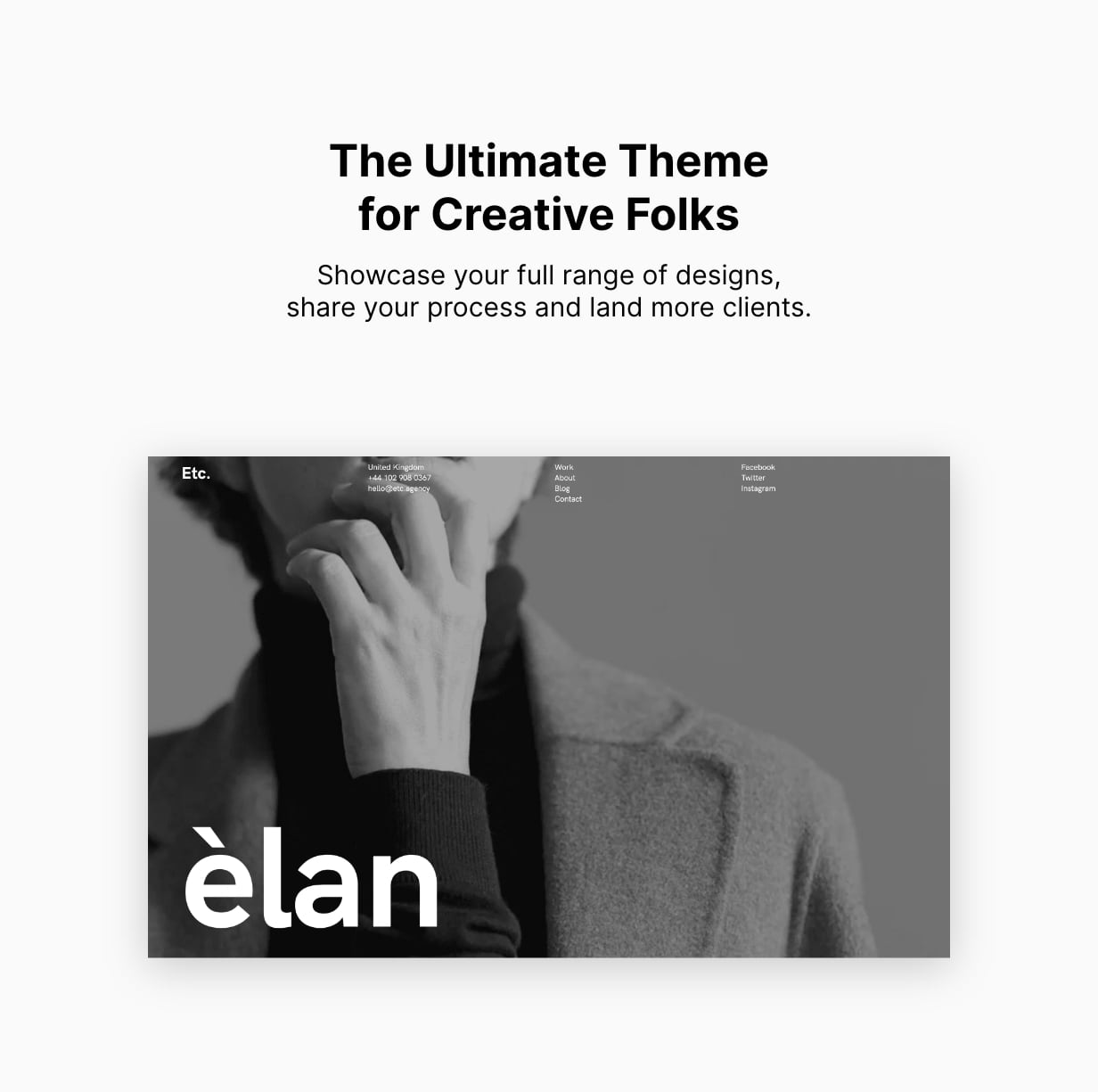 Features list:
Clean & minimal design
Powerful & super lightweight
Easy installation & setup
Fully responsive
Blazing fast
Packery & Masonry layouts
Multiple portfolio pages
Infinite loading
Custom fullscreen backgrounds for each page
Interactive animated mouse cursor
WordPress Customizer ready
Image, Video & Gallery support
Localization ready
One-click demo import
Image Credits
All images used to illustrate the demo are copyrighted to their respective owners and not included in the package you download from ThemeForest. They are only used for demonstration proposals.
Need support?
First of all, thank you for your interest in my theme. If you need technical support or have any questions, please send me a message via my contact page form and I'll get back to you as soon as possible.
Changelog

= 1.1.8 | 14 Feb 2023 =

* Improved AJAX link selector
* Fixed comment reply link issue
* Added Navigation caption to Customizer
* Minor styling improvements

= 1.1.7 =

* Added compatibility with WordPress 6.0
* Minor styling improvements

= 1.1.6 =

* Fix issue with mobile menu overflow
* Fix issue with pointer events in Safari

= 1.1.5 =

* Add support for Google Analytics and Google Tag Manager
* Fix issue with menu height on mobile devices
* Fix issue with header height on mobile devices
* Improve AJAX security
* Fix some other minor issues

= 1.1.4 =

* Add compatibility with ThemeRain Core v1.0.8
* Add compatibility with Contact form 7 v5.4.x
* Fix back button issue in Safari
* Fix align issue
* Improve some other minor details

= 1.1.3 =

* Added support for the latest ThemeRain Core update
* Fixed wide width for post images
* Improved styling a bit
* Fixed some other minor issues

= 1.1.2 =

* Added option to merge menus on mobile view
* Added lazy loading
* Improved global color settings
* Fixed AJAX infinite loading issue
* Fixed video background url issue
* Fixed video block styling issue
* Fixed various styling issues

= 1.1.1 =

* New: "Unique portfolio page" option in project settings
* New: Option to enable/disable AJAX
* Added "None" option to project link type
* Moved portfolio custom slug option to "Settings > Permalinks" 
* Improved project navigation
* Fixed an issue with admin bar

= 1.1.0 =

* Fixed custom title on posts page
* Fixed secondary thumbnail display on classic portfolio layout
* Removed "Advanced Custom Fields" plugin from required list
* Improved some other minor details

= 1.0.8 =

* Added support for Adobe Typekit and custom fonts
* Fixed various minor issues

= 1.0.7 =

* Added ThemeRain Core plugin (please remove ThemeRain Portfolio)
* Added ability to choose custom URL for each project thumbnail
* Added support for video thumbnails
* Replaced Multiple Post Thumbnails plugin by metabox option
* Improved AJAX by a lot
* Fixed visual issues with the animated cursor
* Fixed video background issues
* Fixed various minor issues

= 1.0.6 =

* Fixed a visual bug with the menu in Safari
* Fixed some other visual issues

= 1.0.5 =

* Added small size option for page title
* Fixed an issue with the animated cursor
* Fixed a visual bug with the mobile menu

= 1.0.4 =

* Added portfolio filter
* Improved styling a bit
* Fixed some minor bugs

= 1.0.3 =

* Added Google Fonts support
* Added secondary project thumbnail support
* Added ability to choose YouTube and Vimeo videos for background
* Fixed some minor bugs

= 1.0.2 =

* Added animation for portfolio and blog thumbnails
* Improved some other minor details

= 1.0.1 =

* Added option to set different sizes for blog posts
* Added support for full width images
* Improved styling a bit
* Fixed some minor bugs

= 1.0.0 | 4 July 2019 =

* Initial Release