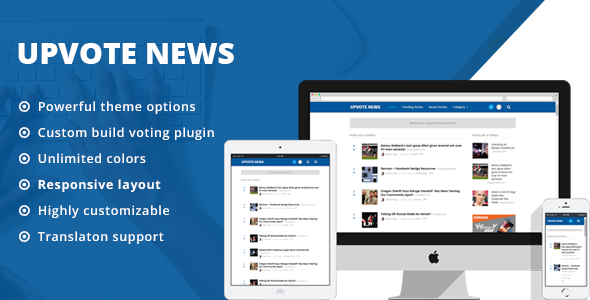 UpVote is the perfect if you want to create site like Reddit, Hacker News, Growth Hackers and other similar sites using WordPress.
UpVote theme is powered by a custom-build plugin that will enable registered users to submit url (in UpVote we called it story) and the theme can automatically fetch the post title, featured image and description from the link, as long as the url support Open Graph.
Users can register to UpVote using WordPress default registration form or simply login using Facebook and Twitter oauth. They can later submit new story (url) or vote on existing stories.
Test the Demo Site
https://demo2.themewarrior.com/upvote/
Username: upvotedemo
Password: tigana182
NOTE: The theme stores the story post inside a new custom post type called "story". The vote button will only work on 'story' post type.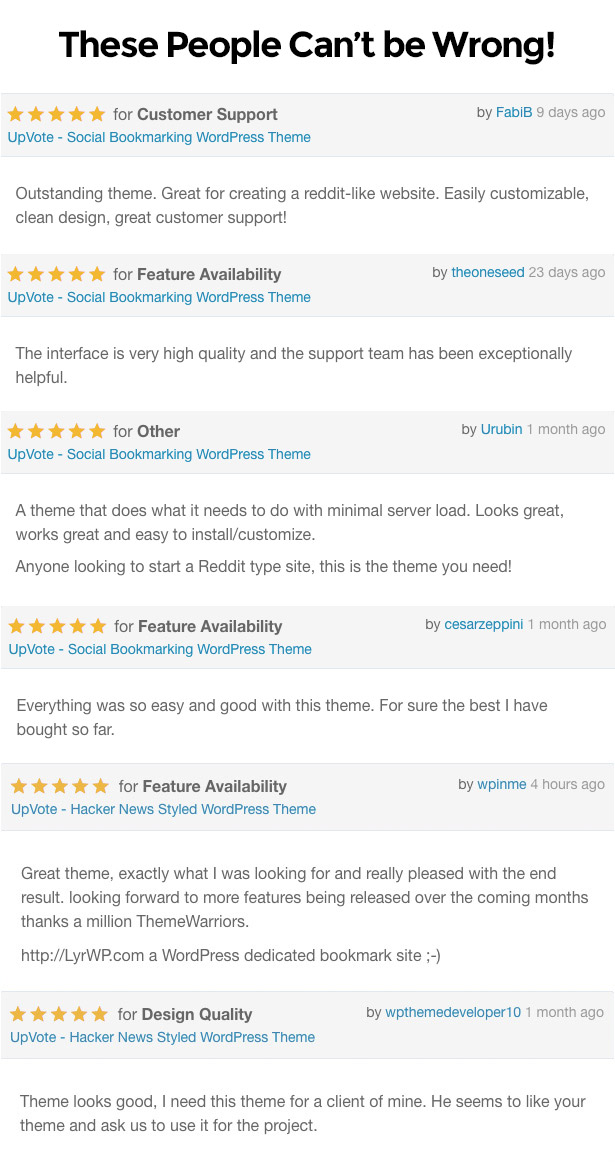 UpVote Features
Enable registered users to submit url to the site
Unlimited colors and typography
Powerful theme options panel
Facebook and Twitter login
Support Google ReCaptcha
User can edit their profile, password or request new password right from the front-end
User dashboard
Voting system
Facebook Comment support
Report Story feature
Trending Stories bar
Recommended Stories
Trending Tags
Auto-complete tags in Submit Story page
Custom page templates and widgets
Popular, Trending and Recent stories shortcodes
Responsive layout
Translation support
XML demo data
Other Themes From Us
Gags
Senate
Hospital+
Neeeqah
Qaween
inFashion
Grateful
Changelog

December 28, 2021 - Version 2.2.2
- UPDATED: UpVote plugin to version 1.4.5
--- FIXED: Fix comment not showing up

April 21, 2021 - Version 2.2.1
- Update upvote-plugin to v1.4.4
--- FIXED: Issue with story featured image not displaying

January 25, 2021 - Version 2.2.0
- FIXED: Fix comment not showing up
- UPDATED: Featured image on single post will not be displayed as background image anymore
- FIXED: Post meta position on single post
- FIXED: Post title typography on single post
- UPDATED: Modify .container width from 980px to 1140px for larger viewport

July 27th, 2020 - Version 2.1.0
- ADDED: Add RTL support for UpVote
- FIXED: Fix warning + add wp_body_open tags()

June 23, 2020 - Version 2.0.0
- UPDATED: Update Upvote plugin version 1.4.3
--- ADDED: Option to use file_get_content or wp_remote_get to crawl data.
--- FIXED: Add sidebar on author page.
--- ADDED: Add login from Linkedin feature
--- ADDED: Default thumbnail from theme option
- ADDED: Add default avatar on theme option

February 18, 2019 - Version 1.8.0
- ADDED: Add custom footer copyright text
- ADDED: Add author link on each post
- UPDATED: Remove Google+ share button
- UPDATED: Update upvote plugin version 1.4.1
- UPDATED: Change Redux_Framework_sample_config() class name to Upvote_Options()

December 17th, 2019 - Version 1.7.2
- FIXED: Fix show code for ads

October 14th, 2019 - Version 1.7.1
- UPDATED: UpVote plugin update to 1.4.0
- FIXED: Default values for recommended story date range
- UPDATED: Remove multiple date range option field from "Display Recommended Stories" in theme options
- UPDATED: Move custom widgets from theme to plugin
- UPDATED: Remove template files from "upvote-templates" directory since the file is identical with the one in the plugin
- UPDATED: Add several WordPress default CSS class name
- UPDATED: Remove recaptchalib.php file that was never used

February 21st, 2019 — Version 1.7.0
- ADDED: Add story toolbar view
- UPDATED: Update UpVote plugin to v1.3.0
  * Add story toolbar functionality
  * Fix non-latin character in Open Graph text
- UPDATED: Adjust not found story message container

July 9rd 2018 — Version 1.6.1
- FIXED: Close menu on mobile

January 23rd 2018 — Version 1.6.0
- FIXED: Minor fixes here and there
- ADDED: Built-in custom avatar
- UPDATED: Improve Facebook & Twitter login functionality
- UPDATED: Replace YARPP plugin with our own related stories code

June 9th, 2017 — Version 1.5.1
- Fix open graph meta tags not fetch on submit page

February 19th, 2017 — Version 1.5.0
- Rename "Suggest Title" text in Submit page
- Add function_exist() checking to OAuth
- Add Facebook comment support
- Add Trending Now feature
- Add Recommended Stories feature
- Add Trending Tags feature
- Add report story feature
- Add feature to get user's IP number when submitting a story
- Fix post date issue in story
- Fix WordPress Quick Edit feature when Publishing Option is set to "Requires Approval"
- Add auto complete feature on Tags field in Submit story page
- Fix issue with redirection when user is submitting a post and the Publishing Option is set to "Requires Approval"
- Fix captcha issue

September 26th, 2016 — Version 1.0.6
- Add requires approval submission, all stories submitted will be set as "draft".
- Rename "Suggest Title" text in Submit page
- Add function_exist() checking to OAuth
- Fix various minor bugs

September 6th, 2016 — Version 1.0.5
- Update TGM-Plugin-Activation
- Make user redirected to the login popup again when entered wrong username or password
- Fix detail story feed content

June 19th, 2016 — Version 1.0.4
- Fix widget Story Categories CSS issue.
- Move Exit ad settings to Advertisement tab.
- Add Header ad in theme options.
- Remove Zilla Shortcodes plugin.
- Add Most Active Users shortcode using [upvote_most_active_users]
- Load videos, audio directly for sites that are supported by WordPress oEmbed such as Youtube, Vimeo, Vine, Soundcloud and imgur.
- Fix some issues with grabbing image from og:image meta tags in target url.
- Update sorting method on Popular and Trending Stories to be more reliable.
- Display list of users who have voted on a story on story details, only last 20 voters are displayed.
- Fix social media login AJAX issue.

May 31st, 2016 -- Version 1.0.3
- Update Related Stories layout
- Fix bugs with Cyrillic text
- Fix other minor issues
- Add 6 months and 1 year post date range
- Fix widget layout issue with no featured image
- Fix issue with open graph
- Simplify single story template code
- Fix no thumbnail code in single story
- Fix popular and trending algorithm
- Add exit page feature

May 21st, 2016 -- Version 1.0.2
- Fix voting button and entry meta layout issues
- Update UpVote plugin

May 20st, 2016 -- Version 1.0.1
- Minor bug fixes on layout

March 21st, 2016 -- Version 1.0.0
- Theme is released