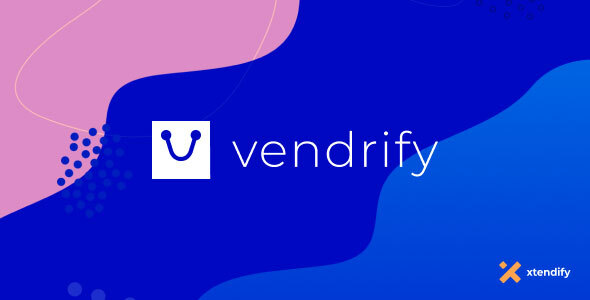 | | | |
| --- | --- | --- |
| | | |
Test Drive Vendor Features
Test drive our Vendrify backend as a vendor using the following link and test out our frontend WooCommerce product editor/creator and vendor dashboard.
Inside of the vendor dashboard you can do the following:
See stats on your store sales
Respond to orders placed, and update the status of the orders, pending, on-hold, shipped, completed
See reviews customers have left on your items
Have direct communication with your customers via the Messages tab
Manage your stores logo, tag line, bio, background banner
And much more!
Build your own community marketplace
Easily setup in minutes to start growing your business today
Features
Vendrify is a complete platform, optimized to help you earn the most revenue
Manage on the Go: Easily manage your vendors, so you can keep growing wherever you are
Easy Payments & Shipments: Support for every major shipping & payment method is provided, so no customer is left behind
Built for Your Niche: Vendrify handles it all. Digital and physical goods, or rentals and services or mix and match to suit your vendors
You Buy It You Own It: You control where your revenue and user data goes.
Brand it to fit your vendors: Easily customize templates, styles and features to connect with your vendors
Live Product Management: No admin panel, that leaves you guessing just beautiful product editing with live updates
Sales Management
Managing sales made easy
A seamless experience that makes it easy to deal with orders and vendors for users of any skill level.
Seller Suite
A suite of tools your vendors will love
Give your vendors easy to use tools to make their products and services stand out from the crowd
Product Editor
Edit Products as you see them
Your vendors don't have to guess what their products will look like with our drag and drop product editor.
Your Site Your Features
Use the services that fit your vendors with the community powered library of tools available at your finger tips.
Choose Your Revenue, boss
It's your site, you get to control listing costs, campaign fees, and advertising. We don't take a cent from you.
You choose the commission rates
You choose the payment gateways
No lock in you own the data and revenue
FAQ
What happens if I cancel my subscription?
When you purchase Vendrify you aren't locked into our service. You own it. However, if you cancel your subscription you'll no longer receive support, or the awesome upgrades we churn out to help you optimize your revenue.
Is Vendrify all I need?
What type of vendors does Vendrify support?
Vendrify supports everything from the sales of physical and digital goods to rentals and booking of community spaces. If you can find a group of vendors then it's likely Vendrify can support them as they reach their customers.
Can Vendrify be used for rentals and physical goods?
Yes, Vendrify can support multiple types of vendors at the same time and you can control what Vendors you allow in your marketplace.
How many vendors can Vendrify support at once?
Vendrify can support as many vendors as you can find for your marketplace. We know how to build software that scales with you from your first vendor to your millionth vendor.
What type of support do you offer?
Vendrify has been built so that you don't need anymore knowledge than you'd use setting up a social media account. If you get stuck, Vendrify's crack team of support specialists will be right there ready to help you 24/7.
I have custom functionality I need for my vendors
While Vendrify has almost every feature a marketplace could need out of the box, since it's built on WordPress and WooCommerce you can extend Vendrify in pretty much any way you want. See our list of recommended developers for your customization needs.
Do you offer free trials?
No we don't offer a free trial, but we do have a live demo you can test out. We also offer a no questions asked 14 day money back policy.
Changelog & Update History
= 3.0.2: Feb 7th, 2023 =
Fix: Vendor registration form field update.
= 3.0.1: Dec 5th, 2022 =
Added: Envato token verification functionality.
Fix: UI/UX and bug fixed.
= 3.0.0: Nov 23th, 2022 =
Update: Theme name and slug with new name "Vendrify".
Add: Core plugin in required plugins section.
Add: Update WordPress 6.1 compatibility.
Add: Update WooCommerce 7.1.0 compatibility.
Fix: UI and bug fixing with latest WP and WooCommerce.
= 1.5.0: Dec 08th, 2020 =
New: Style Kit Tasti.
Fix: Private message login screen.
Add: WordPress 5.5.3 compatibility.
Add: WooCommerce 4.7.1 compatibility.
= 1.4.1: Oct 26th, 2020 =
Fix: Pagination links in the WooCommerce vendor page.
Update: Links in the theme setup page.
Fix: Testimonial Guttenberg block.
Fix: Royale site content issues.
Update: Layout of WooCommerce account payment Page.
= 1.4.0: Aug 11th, 2020 =
Fix: Product Editor Permission issue.
Fix: Several Product editor changes.
Fix: Coupon on cart pages.
Fix: Guttenberg InnerBlocks.
Update: Cart page mobile css.
= 1.3.2: May 15th, 2020 =
Fix: Getting started link fixes.
Fix: Vendor avatar shows.
Fix: Frontend product strings are translatable.
Update: Fixed outdated WooCommerce templates.
Update: Orders page mobile layout.
Add: Featured Vendor block layout option.
= 1.3.1: April 22nd, 2020 =
Fix: Gutenberg blocks in WP 5.4.
Add: WooCommerce 4.0.0 compatibility.
= 1.3.0: April 2nd, 2020 =
New: Style Kit Royale.
New: All product Gutenberg block.
Fix: No longer able to verify purchase and cannot import content.
Fix: Change URL's to be user generated content.
Fix: Store Cover Image Issue after updating vendor details on the WordPress backend by an admin.
Fix: Only show the add product icon, if user has the correct role(s) (vendor) and permissions.
= 1.2.2: September 7th, 2019 =
Fix: Properly import demo content and now we import real images instead of placeholders.
Fix: On the Vendor Dashboard page, the orders list now displays properly on mobile devices.
Fix: Use the Purchases label instead of Orders in dashboard navigation.
= 1.2.1: August 27th, 2019 =
Fix: The notifications for theme updates and the theme update link.
= 1.2.0: August 24th, 2019 =
Add: Allow the hero block to take a zero value as background opacity.
Add: Color options for badges in the Collections block.
Add: Option to select the posts card style on the Blog Posts block.
Update: Private Messages download link also contains a coupon so that you can get it for free.
Update: WooCommerce 3.7.0 template files.
Update: Improved the Collections block structure and implemented a migration process for blocks.
Fix: On the Features block, there was a click bug, which was blocking the image selection.
Fix: The Country and City select fields, on the Checkout page, are now as long as their container.
Fix: On the checkout page, the Stripe template part is now correctly styled.
Fix: Removed deprecated Gutenberg components.
Fix: The product review form now properly displays the text field when the user is not logged in.
Fix: Imported custom links on multi-site instances. This fix also helps with the imported Sign-in / Sign-up links bug.
Fix: Adjusted Reviews subtitle style.
= 1.1.0: August 4th, 2019 =
Fix: Prevent multiple tags on homepage.
Fix: Navigation style on the vendor profile on mobile devices.
Fix: Made the vendor name visible for the Product Card style 1.
= 1.0.1: July 24th, 2019 =
Fix: Purchase validation
Fix: Pagination on orders template
Fix: Top padding on product-editor
Fix: A PHP warning on the checkout page when the user is not logged in yet.
= 1.0.0: July 18th, 2019 =
Yay! The First Release of Vendrify.