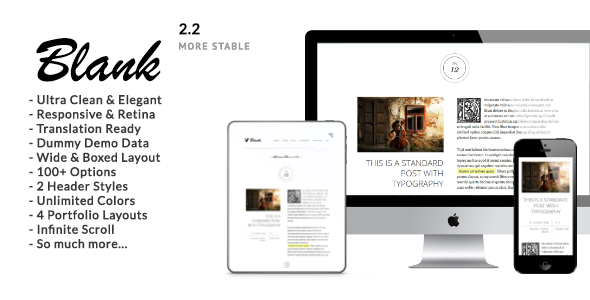 Not the theme you're looking for?
Try The Fox – Ultra Minimal News/Magazine/Blog WordPress Theme with 30+ demos.

Latest version 2.2.3 – March 08, 2023- Compatible with WordPress 6.1.1
Blank is an elegant, minimalistic WordPress theme with ultra-clean design and strongly focusing on content. It's a good choice for blogging with all standards: responsive, retina-ready, translation ready, simple, clean and effective. It's also easy to setup and you can publish your content right after installing theme. No need more coding or something else.

Customers Reviews
Some reviews from customers who have purchased & used this item already.
Full feature list
WordPress 6.0 ready & Gutenberg Editor ready
Responsive: looks well on all devices like iPhone, iPad or large screen. Sliders also work well with touch and swipe gesture.
Retina ready: It looks beautiful on high-resolution screens like those found on the iPad, Kindle Fire HD, Nexus 10, and MacBook Pro with Retina Display
Translation ready: Blank has included default.po and default.mo files. You can easily open and edit to turn your site into any language you want.
Extensive options: Nearly 100+ options, change the color and font on the fly. You can enable or disable almost everything.
SEO Optimized: Designed in HTML 5 and CSS3 with optimized code. Not only your visitors but Google loves this theme awesome fast speed.
Clean and elegant design: Minimalistic design focused on readability. It's really effective for blog with long posts/heavy content.
2 layouts: Both of hidden or visible sidebar looks great! It's up to you.
Useful shortcodes: Easy to insert with TinyMCE button integrated.
4 portfolio layouts: 2, 3 or 4 columns and you can choose to crop thumbnail or not.
Video Supported: Both in blog and portfolio.
Vertical Featured Image supported. Indeed, you have option to crop or not your featured image in each post. Thus, it looks beautiful regardless your featured image size. It's great even your post has no featured images!
JetPack compatible: Has been tested with JetPack. Bring all great features of JetPack to your site with no troubles.
Unlimited colors: With color picker in admin panel, you can change the color easily.
Wide & Boxed layout: You can choose wide or boxed layout and in boxed mode, body background color and body background image are ready.
2 Header Styles: Logo on the left or centered logo. Logo with and height are flexible.
Sticky header option: Easy to navigate with sticky header.
500+ Google fonts: Just choose the font you love.
Custom Logo upload: Header and Footer logo and their Retina version as well. Also, you can upload favicon, Apple touch icons…
Post types supported: Standard, video, audio, gallery, link, quote, status. EVERYTHING you need for a blog.
Social Impact: Share buttons for each blog post
Related Posts: Built-in related posts design based on tag score.
6 widgets included: including Tweet widget with updated v1.1 Twitter API. All widgets are polished so they look greatly!
Colorbox lightbox integrated
Icons: Nearly 400 icons in use width 33 social icons.
Awesome dropcap with "Alphabet of Children" font.
Built with Bootstrap: Using popular Bootstrap framework, you can easily edit if you have some coding skill.
One click installation: This theme has been included a demo.xml file, that helps you to you turn your site amazing as the demo site by one click.
Well documented
Dedicated Support and lifetime upgrade. Visit our support desk.
Credits
Special thanks to Pixabay, Jørgen Grotdal and Nicolas Jolly for images used on the demo site. These images are NOT included in the theme.
More Themes
<tbody>
The Fox – Modern & Minimal Blog / Newspaper WordPress theme made with Elementor, 30+ demos, 20+ layouts, 1,500+ options and unlimited header/footer builder to build any type of blog/magazine. Original & distinctive designs.
Dine – Exquisite Restaurant WordPress theme made with Elementor, 1,000+ options and unlimited header/footer builder. Make your business professional. Designed for bistros, bars, pubs, restaurants, cafes, wine shops.

</tbody>

Change log
Version 2.2.3 – March 08, 2023
- wp 6.1.1
- fix: pencil icon issue
Version 2.2.2 – September 09, 2022
- wp 6.x
- fix: sticky header issue
Version 2.2.1 – June 16, 2022
- fix minor issues
Version 2.2 – May 26, 2022
- fix: all theme check issues
- fix: validation issues
- fix: secure wpdb query
- fix: esc_attr, esc_html
Version 2.1.1 – September 05, 2020
- Compatible with WordPress 5.5.x
Version 2.1 – June 12, 2019
- Fix Theme Option SSL issue
- Gutenberg & WP 5.x ready
- Remove Google+ widget while Google+ stopped
Version 2.0 – December 12, 2015
- Update TGM Activation to 2.5
- Move required plugins to external
- Not include plugin: "Better Feedburner Widget" by default, for those who needs it can download it here:
 https://wordpress.org/plugins/better-feedburner-widget/
- Make theme compatible with WP 4.3, 4.4
- Change thumbnail 940px --> 1100px to fit wide screens
- Change Default primary color from #12dada to #0dad9d
- Change the default option "Use Old Triangle Sidebar button" to true
- Remove Favicon options while it's the job of WordPress
- Organize Options in a tab view
- Make the single image fullwidth anyway
- Update widgets to compatible with WP 4.3+
- Update plugins
- Update the *po file for translation
- Update the demo.xml file
- Improve theme check result (remove thumbs.db, ds_store, add more css...)
- Update Isotope to 2.2.2 to improve Portfolio Experience
- Fix loader@2x.gif issue
Version 1.9.1 – May 02, 2015
- Fix issues concerning wp_kses() function
- Remove importing from responsiveness function
- Update Initial scale for viewport
Version 1.9 – April 25, 2015
- Update TGM Activation
- Improve Code Quality
- Fix style.css Retina widget link issue
- Enqueue style instead of importing
- Update Google fonts list
Version 1.8 – July 17, 2014 – 1 year on Themeforest
- Social share on blog posts
- Related Posts on blog posts
- Fix small issues
 + Sticky Header, Social Icons...
 + Boxed Layout
 + Retina issue
- Loading effect for portfolio items
- Redesign Portfolio Template: Allow post content and decoration
- Design Portfolio Category
- Add option to link image to the post
- boxed layout wider than 20px each side
- pagination option for portfolio
Version 1.7.1 – June 13, 2014
- make it compatible backward, page-portfolio.php template comes back
- option for old design of sidebar toggle button
- fix boxed layout issue on mobile
- fix pagination retina issue
Version 1.7 – June 03, 2014
- redesign pagination buttons
- make it compatible with WP 3.9 (shortcode generator)
- make single thumbnail larger
- add status post format
- redesign the sidebar toggle button
- develop portfolio shortcode and stop supporting portfolio template
- add option: social icon option at top
- add option: infinite scroll
- update contact form 7 latest version
- fix header logo height issue
- fix gallery post format issue
- fix mCSB_button.png missing file issue
- fix some responsive issues
Version 1.6 – December 19, 2013
- add custom footer background pattern option
- add custom sidebar background option
- add an option for tagline
- add option to hide permalink
- add option for uppercase/lowercase
- add option for blog title and small text
- add many font size options
- add footer padding option
- add google font preview in options
- add custom decoration for portfolio page
- fix triangle top position in WP 3.8 (admin bar 32px)
- fix <title> with WordPress SEO by Yoast
- resize portfolio default default decoration in image folder
- fix portfolio all text in shortcode
- make it compatible with WP 3.8
- fix sticky header menu on mobile view
- fix custom separator pattern
- make it compatible with Blogroll plugin
- fix blog title line height
Version 1.5 – November 20, 2013
- fix .article clear both
- fix small issues
- fix sidr issue
- add option for decoration
- add sticky option for centered logo
- remove 1:11 proportion for navigation menu
- update contact form 7 to v 3.5.4
- update admin panel to SMOF 1.5.2
- fix child theme footer background path
- add option for content width up to 1100px
- add footer custom icon option
Version 1.4.3 – October 14, 2013
- update Wi:Portfolio plugin: add ability to add multi portfolios
- fix retina logo issue
- remove redundant script at the end of functions.php file
Version 1.4.2 – September 30, 2013
- fix default value for header layout option.
Version 1.4.1 – September 23, 2013
- fix boxed layout css
- fix footer icons issue
- fix blog font size options
September 18, 2013
- fix default value for header layout option.
Version 1.4 – September 05, 2013
- visible sidebar supported
- fix small issues
- 2 header styles
- option for logo and navigation menu ratio
- option for sticky header
- option for page layout (small or fullwidth)
- option for boxed/wide layout
- option for header code
- option for navigation custom font
- option for body background color/image
August 16, 2013
- fix small excerpt issue in WP 3.6
- add RSS option for footer icons
- Update Contact form 7 plugin.
Version 1.3.2 – August 14, 2013
- add self-hosted video and audio support for featured display and in post options.
- fix some small css issues.
August 08, 2013
- Change a little CSS comment form label for plugin compatiblitity
- Add missed decoration@2x.png for Retina CSS
Version 1.3.1 – August 03, 2013
- change shortcode to [wivideo] shortcode to avoid builtin shortcode of WP 3.6
- make theme compatible with WordPress 3.6
Version 1.3 – August 01, 2013
- add many options for portfolio: layout, video, thumbnail...
- add metabox plugin to Wi:Portfolio shortcode
- move portfolio options from theme options to page options
- add iconbox, recent posts, recent portfolio shortcodes
- update demo.xml, language file and documentation
Version 1.2.3 – July 27, 2013
- fix footer logo issue
- add option for thumbnail position in medium layout
- add more options for social footer links
- add homepage & email icon options to social options
- add option to display placeholder or label in comment form
- add option to display small arrow or not for blog post thumbnails
Version 1.2.2 – July 25, 2013
- add !function_exists to all functions to prevent conflicting
- make scrolltop button responsive
- add portfolio excerpt length option
- add functions to portfolio plugin so it can be used with other themes
Version 1.2.1 – July 24, 2013
- Fix nav menu error on mobile
- Fix body padding right on mobile
- Update credits on Documentation
- Update newest demo.xml
Version 1.2 – July 21, 2013
- Include portfolio plugin in theme via TGM
- Redesign Portfolio
- New demo.xml file
- Options for portfolio
Version 1.1 – July 19, 2013
- Add portfolio plugin
- Fix small issues
- Update demo.xml
Version 1.0 – July 17, 2013
- Initial Release