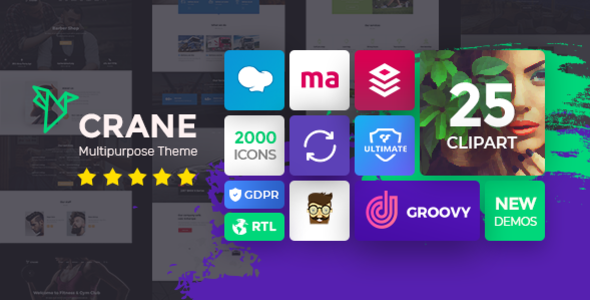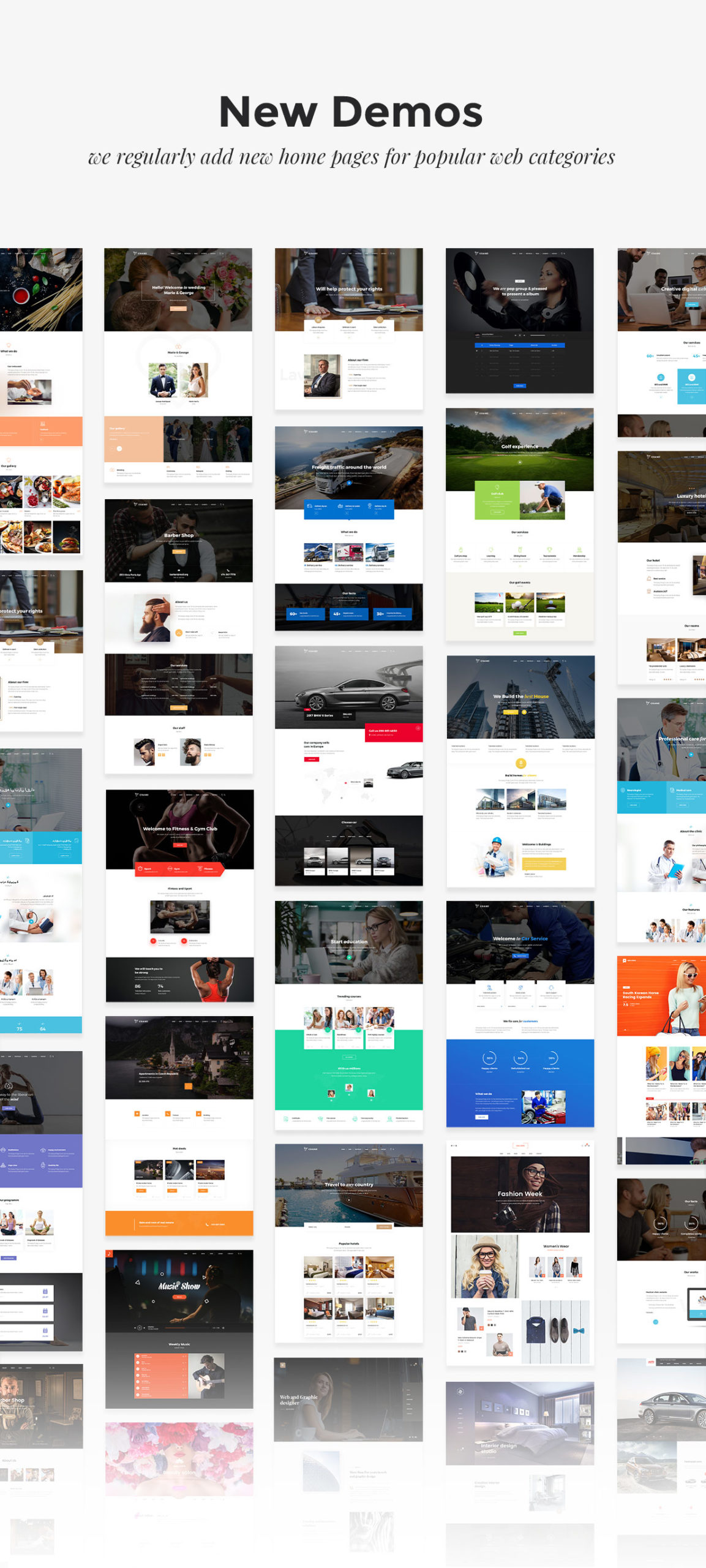 Highly Customizable Multipurpose WordPress Theme with Mega menu
One of new professional modern multi-purpose WP theme at ThemeForest marketplace. Powerful features – Responsive Layout,Mega Menu, Best drag and drop builder WPBakery, Bestselling Slider Revolution, Awesome Layer Slider, ConvertPlus, WooCommerce, Massive, Ultimate Addons, Ubermenu compatible. Ajax Cart, RTL, Easy Fast Oneclick Demo Import Installation, Parallax, Beginners friendly, Multisite, Gallery, SEO Ready, Flat, Simple, Minimal. Create Personal, Corporate, One page, Landing, Blog, Digital store, Elegant Portfolio, Shop, eCommerce, Magazine, Events, Software, Business, Finance site for Agency, Artist, Blogger, Creative Photographer.
Crane is suitable for the eCommerce websites such as supermarket, furniture, organic, fashion, electronics, pet, sport, spa, yoga, game, fashion kid and digital marketplace(you can use Grooni portfolio widget with custom fields) and sell with paddle or gumroad, Musician, Designer, Craft Startup Company.
.
"We've created an incredibly flexible and simple tool for site building." Grooni Team
Full List of Features
ExtendedWPBakery Features
Compatible with Elementor Page Builder
Comes with Ultimate Addons for WPBakery Page Builder addon
Comes with Massive Addons for WPBakery Page Builder addon
Comes with Slider Revolution
Comes with Kreatura Slider former Layer Slider
Comes with Groovy Mega Menu Plugin
Clean, Modern Design can be used for any type of website
GDPR Compliance
GDPR Compliant
Compatible with WordPress 5.4
Focus on typography, usability & user-experience
Retina Ready & Fully Responsive
WPBakery mega menu blocks
WordPress widgets in mega menu
Quick and Easy installation
One click Demo Content import
Boxed & Wide site layouts
150+ pre-built Page Layouts
Ready for One Page sites
Highly Customizable
Easy Automatic Updates
Extensive Styling Options & unlimited colors
Advanced Header, Logo, Menu, Portfolio, Typography and Blog, Footer, Shop options
Unlimited Header Layouts
25 predefined Header layouts
18 Portfolio Grid styles
18 unique Blog layouts
Over 2000 Icons
25 Premium clipart images
Customizable Google Maps
Gutenberg Compatible, #GetGutenbergReady
Parallax Effect backgrounds
Awesome CSS3 Animations
Unlimited Sidebars
Child Theme support
Custom HTML & CSS editors
Tools to Grow Subscribers, Conversions,Customers, Revenue
Under constuction (Maintenance) mode
Animated Appearance of columns and images at any page
WooCommerce compatible with full design integration
Full compatibility with Contact Form 7
WPML fully compatibile
AJAX Cart
Loco translate ready
RTL languages support
Easy to use Elements (shortcodes): Accordion and Toggles, ActionBox, Button, Chart, Client Logos, Contacts, Contact Form, Counter, Custom Heading, Google Maps, IconBox, Image Gallery, Image Slider, Message Box, Person, Pricing Table, Progress Bar Portfolio Grid, Responsive Columns, Separator, Sharing Buttons, Social Links, Tabs & Timeline, Testimonial, Tour, Video.
Online Documentation & convenient Support Portal
Beginner Friendly
1 Click full demo import content. Install pages, posts, widgets, menus and so on
Child Theme included for easier theme upgrades. Keeps your main theme files intact
All demos included
Plugins included
Detailed documentation and FAQ
Stellar support
RTL & WMPL ready Support
GDPR Compliant WordPress Theme
Compliant with GDPR (General Data Protection Regulation)


Crane 1.3.0 adds new tools for GDPR compliance.
Documentation
New Demos on the way…
Law, Lawyer
Creative Agency
Financial Consultation

Real Estate
Golf Club
Car dealer
Restaraunt
RTL Demo
Travel
Construction
Hotel & Accommodation
Bitcoin & Cryptocurrency
Personal Blog
Business & Finance
7 Must have wordpress plugins included
WPBakery Page Builder
Nobody likes to waste time when building site pages, so WordPress has developed WPBakery Page Builder with amazing functions. Also, known as Visual Composer, you can build site pages quickly even if you lack any particular programming skills. It has several easy to use modules and interface elements that are based on its widget library. This is going at $45 and proves to be a popular page builder by most customers.
Ultimate Addons and Massive Addons
WordPress has increased the quality in every sense of the word of its two addons for WPBakery (formerly Visual Composer). They have various extra widgets and settings that help you to expand the use of the page builder. These plugins will enable you to create any page design that you fancy. It boasts of having modern interface elements such as buttons, progress bars, tabs, infographics elements and animation features. Separately from Crane these addons are priced at $50.
Slider revolution and Layer Slider
Slider Revolution and Layer Slider are priced at $48. These plugins have tons of functionalities that can add on your site visual effects. The various animated headers, paralax, post sliders and galleries.
Convert Plus
This popup plugin was formerly called ConvertPlug and is priced at $21. It is a notable plugin on your website that has various functions including creating, managing and using a popup windows. WordPress has revolutionized the way website operates. This plugin has a number of functions such as making popup and collect email addresses from your customers. The popup has several features including image sliders, video social network buttons, WordPress widgets info blocks, and built-in forms. It can easily help you convert leads into sales and subscribers.
Groovy Mega Menu
This exclusive plugin is from Grooni who developed Crane theme. You will get a kick out of Groovy menu as you can set and create different types of a menu on your website. Customization is easy as you can use colors, fonts, add effects. crane-icons
RTL Support
Any potential language barrier is solved with two basic components: RTL + WPML or Polylang the pages, menu, footers will be fully multilingual, and the rest is done.
Why should you get the Crane Theme?
Easier to create professional websites in no time, even without knowledge of HTML/CSS/PHP, without having to touch a single line of code and without involvement of developers.
This is a truly multipurpose theme suitable for the majority of corporate or creative web projects. Both beginners and experts in e-commerce will also find favor with the theme.
Clean and trendy design with a great number of ready-to-use demo pages, powerful functionality and flexible environment.
Thematic demo templates regularly updated
Useful and detailed documentation.
SEO Ready, Get more visitors by making the content of your website fully visible for search engines.
Powerful blog features
Easy and simple demo import and theme installation
Flexible mega menu plugin for creating various types of menus
Regular updates for an unlimited period of time.
Ideal for selling digital items and physical goods. The theme is fully compatible with WooCommerce plugin. Also, you can connect Gumroad Paddle or a similar platform.
The theme is match for developers, searching for a platform for website creation for their customers.
An important factor is possibility to save $456, compared with the price you'd have to pay for these plugins, icons, and cliparts purchased without the Crane theme.
Blog Features
Crane has more impressive tools for creating and managing a blog. The blog functional is implemented in the form of WordPress posts and as blog widget and can be added in any place in the content area. You can use text, graphic, audio, video, link, quote post type. You can choose from an infinite range of choices when editing your blog and changing its layout. Classic, Modern, Cell, Grid and Masonry styles are available.
You can add Visual Composer widgets to the pages, customize sidebars, integrate a blog on any pages use widget and many other possibilities. Crane is really an ultimate tool for creating and managing a blog.
Portfolio, Gallery, Showcase
Your works or products will have noticed by your visitors. Crane offers a great range of choices for creating your portfolio or a gallery. You will find a lot of different ways of the gallery, portfolio and catalog display such as classic, masonry, cells, and modern style. Each style additionally offers many design options. You can customize the number of columns, size, color, type, hover effects add custom fields.
Professional and Friendly Support
Stuck? Need help? Visit our online documentation and FAQ, or create a ticket via support portal.
Media about us

http://grooni.com/docs/
Showcase
We can't wait to see what you have created with Crane theme. If you are proud with your site, please submit it to our showcase.
System requirements
To use Crane theme you should ensure your website is operating on WordPress 4.8 or greater version.
Minimum server requirements
For correct work of Crane theme, hosting must meet the following requirements:
We recommend Apache or Nginx as the web server since they are the most reliable and functional. Though, in most cases, any server supporting PHP and MySQL will work well.
Minimum PHP limit settings
Many problems you may face, such as failure of data update, failure of data import, "white screen", "empty content page", etc. arise due to low limits in PHP configuration. We recommend to set the following minimum limits for php.ini:
max_execution_time 180
max_input_time 180
memory_limit 128M
post_max_size 32M
upload_max_filesize 32M
Now in progess

    - Add new features from Customer whishes list
    - Updated plugins
    - Elementor Layouts
    - Add new demos

New functions every week! Suggestions for future updates?
Help shape Crane's future. Crane was built for you. Every single customer suggestion/request will be considered and many will be implemented. Crane is going to keep adding new amazing goodies and your suggestions will shape the direction. So make sure to join the Crane mastermind community group and get involved. Crane is here for the long term.
Send your astonishing ideas for next update

Change log
Detailed changelog with screenshot and images view here
Version 1.5.14 – July 31, 2021

    [Added]
    - New option in Groovy Blog widget "Include Sticky blog posts" 
    [Improved]
    - Compatibility with WordPress 5.8
    - Premium plugins Slider Revolution, Ultimate Addons, WPBakery to the latest versions

Version 1.5.13 – March 3, 2021

    [Improved]
    - Updated plugins 
    [Fixed]
    - Fixed PHP Warning when running Crane with Woocommerce when CRane runs without the Grooni Theme Addins plugin.
    - Changed default settings when working without Grooni Theme Addins plugin.

Version 1.5.12 – February 26, 2021

    [Fixed]
    - AJAX Notice about adding to mini-cart is supports multilanguage now.
    - Bug with displaying 404 pages assigned in Theme Options
    [Updated]
    - Updated npm modules.
    - Updated plugins WPBakery, Ultimate Addons, Revolution Slider to the latest versions. 

Version 1.5.11 – January 1, 2021

    [Improved]
    - Updated the pool of JavaScript libraries included in the Crane theme.

Version 1.5.10 – November 16, 2020

    [Improved] 
    - Updated the pool of JavaScript libraries included in the Crane theme.
    [Updated] 
    - Updated plugins in the bundle to the latest versions. WPBakery, Groovy Menu, Convert Plus

Version 1.5.9 – September 23, 2020

    [Fixed] 
    - Fixed issue with posibility to update Groovy Menu 1.x.x to 2.x.x
    [Updated] 
    - Updated plugins in the bundle to the latest versions. WPBakery 6.4.0, Ultimate Addons 3.19.6, Slider Revolution 6.2.23, ConvertPlug 3.5.12, Massive Addons 2.4.7, Groovy Menu 2.3.0

Version 1.5.8 – June 10, 2020

    [Improved] 
    - Improved "Previous / Next" navigation settings for blog, portfolio and woocomerce product pages.

Version 1.5.7 – June 9, 2020

    [Updated] 
    - Premium plugins from Crane bundle: ConvertPlug to 3.5.9, Slider Revolution to 6.2.11, Groovy Menu to 2.1.0 - Compatibility with the latest versions of supported plugins: WooCommerce to 4.2.0, Mailchimp, Instagram Feed, Contact Form 7, Grooni Twitter Widget, Grooni Theme Addons.

Version 1.5.6 – April 15, 2020

   [Added] 
   - New option for "Portfolio" widget allowing you to select a thumbnail hover  without a link to the portfolio page
   - New option for "Portfolio" widget allowing you to set the gradient for the hover effect. It only works for Masonry type with Corporate style.
   - Support for WordPress 5.4, WooCommerce 4.0.1
   [Fixed] 
    - Fixed showing of the "Privacy Preferences" block if the page caching plugin is enabled on the site.
   [Updated]
   - Premium plugins: GroovyMenu, Ultimate Addons for WPBakery Page Builder, Slider Revolution Responsive WordPress Plugin

Version 1.5.5 – February 26, 2020

    [Updated]
    - LayerSlider, RevSlider, WPBakery, Convertplug, Ultimate Addons for WPBakery, Groovy Menu 
    [Fixed] 
    - Fixed the display of the gallery in woocommerce when it was exposed for the sidebar product page in sticky mode 
    - Fixed bug for WooCommerce when showing related products. In cases where the parameters of the quantity of output goods have not been determined. -
    [Improved]
    - Increased priority for Crane styles. This eliminates the conflict of styling WPBackery blocks in some cases. 
    [Added] 
    - Added two options in Theme Options> Advanced settings. The first is 'Initialize JavaScript files with higher priority' and the second is 'Initialize lodash JavaScript library separately'. They are used in rare cases to raise the level of compatibility with some plugins.
    [Removed] 
    - The lodash.js library has been removed from the main front-end bundle for a separate download with a higher priority. Made to eliminate conflicts with some plugins. 
    - Removed the link for editing crane_footer in the front-end editor from WPBakery 

Version 1.5.4 – January 4, 2020

    [Added] 
    - Option to select hover effect for blog archives with masonry type 
    [Improved] 
    - In a single blog, the author info block will not be displayed if this author does not have Website or Social links or Biographical Info in the profile 
    - By default, only one heading will be displayed in a blog post 
    - Social share buttons output functionality moved to Grooni Theme Addons plugin 
    [Fixed] 
    - The bug was fixed when the footer parameter from the meta data was not taken for the Woocommerce store's pages

Version 1.5.3 – November 20, 2019

    [Added] 
    - New setting in "Theme Options> Page title and breadcrumbs> Page title settings>" "Titles semantic level" This option allows you to choose which tag should be the header H1, H2, H3 or H4 on the pages of archives and single records. 
    [Fixed]
    - The blog widget uses shortening of long headers and excerpts if their volume exceeds the block height. 
    - Overlapping tags on excerpt text in Safari browsers has been fixed in the blog widget. 
    [Updated]
    -  Slider Revolution and Groove Menu to the last versions

Version 1.5.2 – October 22, 2019

    [Fixed]
    - The output of some variables to the front is escaped. The theme is 100% tested by Envato Theme Check
    - Changes to default theme styles 
    [Removed]
    - Free plugins from the bundle, that are available in the wp.org repository 

Version 1.5.1 – October 8, 2019

    [Added]
    - Added the ability to display description from taxonomy settings (category, tags, etc ...)
Crane Theme Options -> Blog -> Blog Archive Settings -> Show taxonomy description

Version 1.5.0.5 – September 18, 2019

    [Updated]
    - WPBakery Page Builder to 6.0.5
    - Slider Revolution to 6.1.2
    - Groovy Menu to 1.8.7
    - Convert Plus to 3.5.1
    - LayerSlider to  6.9.2 
    - Ultimate Addons for WPBakery Page Builder to 3.19.0
    - Massive Addons for WPBakery Page Builder to 2.4.6.1

    [Added]
    - Compatibility with WPBakery Page Builder version 6+
    - Added more compatibility with the Guttenberg editor when editing in the admin panel

    [Updated]
     - Styles for standard WordPress elements

Version 1.4.8.3 – June 25, 2019

    [Fixed]
    - Compatibility issue with Crane footer blocks and Elementor page builder

Version 1.4.8.1 – June 19, 2019

    [Updated]
    - Convert Plus to 3.4.5
    - Layer Slider to 6.8.4
    - Groovy menu to 1.8.3.2
    - Contact Form 7 to 5.1.3
    - Grooni Twitter Feeds widget to 1.0.8
    - WooCommerce to 3.6.4
    - MailChimp for WordPress to 4.5.2

Version 1.4.8 – April 30, 2019

    [Added]
    - Added 2 new demos: GYM, Medical
    [Fixed]
    - Fixed bug with missed icons in icons menu appear with Full Demo Import

Version 1.4.7 – April 20, 2019

    [Updated]
    - Instagram Feed to 1.12
    - Mailchimp for WordPress to 4.5.1
    - WooCommerce to 3.6.1
    - Groovy Menu to 1.6.3
    - Massive Addons for WPBakery Page Builder to 2.4.5.1
    [Added]
    - New demo page "Car Service" 
    [Fixed]
    - PHP Warning related to post meta
    - Several settings were not working (Design options) in "Row" widget in shop archive page
    [Improved]
The dynamic field "Portfolio" https://nimb.ws/uR9EDw in Theme options such now has default value available for translation. If you leave it blank the value will be retrieved from static PHP file allowing you to easily translate the string with any translation plugins such as Polylang, WPML, etc. Also, we decided to remove dynamic text fields for 404-page text https://nimb.ws/kqgU0s. These fields now also moved to static PHP files that make them available to be translated into several languages, which was hard to implement before.

Version 1.4.6 – March 15, 2019

    [Updated]
Time to time we release updates that require database updates. When the database update is required the appropriate infobox is shown in the WordPress admin page.  In some cases (very rarely) the update process could freeze. To restart the process and find out the problem we added a special page Crane theme debug page. By default, it is hidden since needed only for the support team. The page can be found if you add the /wp-admin/tools.php?page=crane_debug_page to the URL of the site domain like so example.com/wp-admin/tools.php?page=crane_debug_page

Version 1.4.5.1 – March 8, 2019

    [Fixed]
    - The issue with Google fonts and Ultimate Addons

Version 1.4.5 – March 6, 2019

    [Updated]
    - Convert Plus to 3.4.1
    - LayerSlider to 6.8.1
    - Slider Revolution to 5.4.8.3
    - WPBakery Page Builder to 5.7
    - Ultimate Addons for WPBakery Page Builder to 3.18.0

    [Fixed]
    - Compatibility issue with Woocommerce Deposits plugin
    - Lazy load option from Theme options

Version 1.4.4 – February 11, 2019

    [Updated]
    - Groovy Menu to 1.6.1
    - Convert Plus to 3.4.0
    - Slider Revolution to 5.4.8.2

    [Fixed]
    - Social share and comments icons were not displayed in rare cases.
    - CSS issue overriding the Revolution Slider buttons visibility in rare cases.