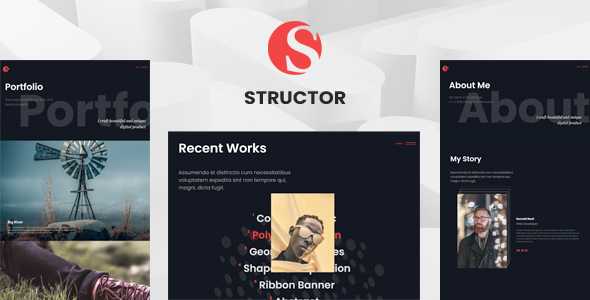 Structor – is the perfect solution for you. It is a premium portfolio site meticulously crafted using the power of Elementor page builder and seamlessly integrated with Contact Form 7 for easy client communication.
Stand Out with Captivating Design:
With "Theme Structor" your portfolio will leave a lasting impression on your visitors. The sleek and modern design, created with Elementor's drag-and-drop interface, allows you to effortlessly customize every aspect of your portfolio. Showcase your projects, artworks, designs, photographs, or any other creative work with visually stunning layouts and captivating animations.
Whether you're a graphic designer, photographer, artist, freelancer, or any other creative professional, "Structor" is the ideal choice to elevate your online presence and attract potential clients.
Features:
Professionally designed portfolio layouts created with Elementor.
Easy-to-use and intuitive interface for effortless customization.
Mobile-responsive design ensures your portfolio looks great on any device.
Integration with Contact Form 7 for seamless client communication.
Stunning animations and visual effects to make your portfolio stand out.
Fast loading times and optimized performance for a smooth browsing experience.
Extensive documentation and dedicated support to assist you every step of the way.
Parallax Slider: Create dynamic and engaging sliders with the parallax effect. The parallax slider feature allows you to display your portfolio items in an interactive and visually appealing way, with background images that move at a different speed than the foreground content.
Parallax Section: Add depth and visual interest to your portfolio pages with parallax sections. By applying the parallax effect to specific sections of your site, you can create a sense of depth and dimension as users scroll, making your portfolio more captivating and immersive
Smooth Scroll: Enhance the user experience with smooth scrolling functionality. When users navigate through your portfolio site, the page transitions will be seamless and fluid, providing a polished and professional feel.
Portfolio for Freelancers & Agencies: "Structor" is specifically designed to cater to the needs of freelancers and agencies, providing a perfect platform to showcase your work and attract clients. Present your portfolio in a professional and visually appealing manner.
Multiple Home Page Layouts: Choose from a variety of pre-designed home page layouts to create a unique and personalized portfolio site. Each layout offers a different arrangement of sections and elements, allowing you to find the perfect fit for your portfolio.
Video Background: Make your portfolio more dynamic and engaging by incorporating video backgrounds. Add captivating videos to the background of specific sections or the entire home page to create a visually striking impression.
Animated Progress Bar: Showcase your skills and achievements with animated progress bars. Display your proficiency levels, project completion status, or any other measurable data using visually appealing progress bars that animate as users scroll through your portfolio.
Masonry Portfolio: Display your portfolio items in a visually pleasing masonry layout. The masonry portfolio style organizes your projects in a grid-like structure with varying image sizes, creating an aesthetically pleasing and modern portfolio showcase.
Horizontal Scrolling Portfolio: Differentiate your portfolio with a horizontal scrolling layout. Instead of traditional vertical scrolling, opt for a horizontal scrolling effect where users can navigate through your portfolio items by swiping or using navigation arrows.
Credits:
Images:
Images used in the preview are not included in main file.