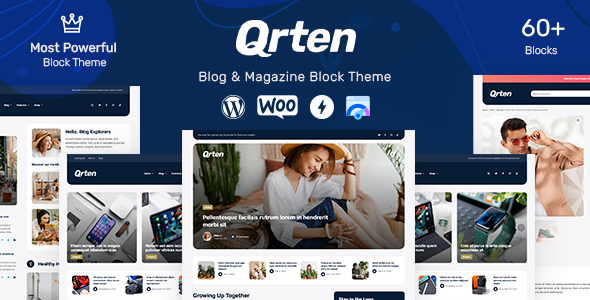 Introducing Qrten, the ultimate WordPress theme meticulously designed to cater to all your website needs with flawless precision. Qrten offers a wide array of features, making it the perfect choice for various online ventures. Explore our extensive library of templates, thoughtfully crafted to fit News sites, Magazine platforms, Blogs, Editorials, and any publishing website you can imagine. Easily replicate your favorite Qrten demo with our user-friendly automatic import feature, simplifying your setup process.
Building your website with Qrten is a breeze, thanks to intuitive tools like the Gutenberg editor, all seamlessly complemented by drag-and-drop functionality. Qrten effortlessly integrates with Gutenberg Editor, including its Frontend Editor.
With a strong focus on performance optimization, Qrten adheres to Google Core Web Vital standards, ensuring swift loading times. Achieve outstanding results on popular website speed testers such as Google Page Speed, Pingdom, GTmetrix, WebPageTest, and Web Dev, thanks to our top-tier cache plugins, site settings, and page contents.
For SEO enthusiasts, Qrten goes the extra mile. We harness the power of JSON LD structured data rich snippets (rich results), a Google-recommended practice for stellar SEO performance. Our theme also boasts compatibility with various SEO aspects, providing dynamic enhancements to boost your content's SEO.
Monetization options are abundant with Qrten. Explore diverse revenue streams, including Google Ads and AdSense integration, WooCommerce for online shops, Paid Post Submission, Paywall, and Paid Content Subscriptions, Sponsored Posts, and the option to leverage Marketing Affiliate links through the JNews Review system. Rest assured, our theme offers full responsiveness for Google AdSense, Page Level Ads, and Google AMP Ads, ensuring seamless ad display across all devices and screen sizes.
Qrten: Where functionality meets finesse, transforming your WordPress website aspirations into reality with unmatched ease and sophistication.
Feature Included into Qrten
Layouts
Responsive Design & Mobile Friendly
All parts is customizable by Gutenberg Editor
Ready-to-use layout templates (No import required)
12+ Header templates
3+ Footer templates
5 Archive page templates
8 Blog page templates
8 Home page templates
5 Author page templates
6 Post page templates
3 Shop product catalog templates
7 Global style variations
7 Selectable icon sets
Adjustable content width and sidebar width
Gutenberg Editor
60+ Exclusive blocks
Post element/meta blocks
Post slider block
Mega menu blocks
Post views block
Review block with template
Recipe block with template
Nutrition block
Instruction direction (How-to) blocks
Review block

3 Rating types (Stars, Points, Percentage)
Global template system
Customizable review templates
4 Built-in templates
Unlimited review rating breakdown
Review summary section
Pros & Cons section

Estimate Reading Time block
Extended post template block with extra options for Query
Slider post template block with extra options for Query
Pop-up block
Sliding panel block
Social network sharing
Responsive attributes
Block appearance options
Block spacing options
Block visibility options with conditional display option
Block printing display option
Popular WordPress Plugin Integration
View Counter and Popular Posts
Inline Related Post with Query block
Alternative featured image option
Contact Form 7 block integration
SEO
Carefully inspected Tag for high SEO performance
Selectable H tag for blocks
Optimized for Google Page Speed & Core Web Vital for improving SEO
Website schema using JSON LD structured data rich snippet
Support SSL & HTTPS
Valid HTML by W3.org Validator
ALT Image support
Performance & Code
Optimized Google Core Web Vitals to get maximum pagespeed performance
Super Lightweight Page
Lazy load Image that reduces half of website size at the first load
PHP 8 Ready to improve loading time 2x faster from the older PHP version
Compatible with Autoptimize, WP Super Cache, and other popular WordPress cache plugins
Advertisement & Marketing
Marketing referral & affiliate by integrating Advanced Review System
Easy integration with Google Ads
Responsive Advertisement for both Image ads & Google ads
Easy Ad Manager
Ready-for-use ad placements
AdBlock detector with Popup
Customizable AdBlock detector popup template
Support for page level ads format
Option & Backend
WordPress Full-Site Editor (FSE) support
SEO Optimization options
Add Thousand of fonts from Google Font
Typography options with preloaded font weights
Local Google Fonts for GDPR
Image size manager
Post format icons
Post views options
Post sharing options
Custom scripts
Custom styles
Custom HTML
Social Feature
Collection of wide social network Share variety
Change value of view counter
Social share block
Social Button for your Social Profile
Language
Easy Translation with frontend translation plugin
Multilanguage Support with Polylang & WPML
RTL Support
Update log
Version 1.0.0 : 16 October 2023

(Gutenmate plugin v1.4.0)
- [NEW] About author block: Added a link to the author page
- [NEW] Ads block: Added optioon to control displaying
- [NEW] Author social block: Introduce author social block
- [NEW] Block child layout options: Added Basis Size option
- [NEW] Block props: Added a link color option
- [NEW] Block support: Added line clamp option
- [NEW] Block visibility: Added a new condition for checking if the current author has a social network
- [NEW] Block visibility: Added visibility option for a sticky header
- [NEW] Blocks: Support dynamic links for href
- [NEW] Box block: Added transformation to the group block
- [NEW] Content area block: Added fluid style
- [NEW] Content area column block: Added fluid style
- [NEW] Core avatar block: Added responsive width option
- [NEW] Core gallery block: Added slider styles
- [NEW] Core navigation block: Added mini list style
- [NEW] Core quote block: Added quote icons
- [NEW] Core Site logo block: Added a default color for the fallback site logo
- [NEW] Core Site logo block: Added alternative logo option
- [NEW] Decorated list block: Added columns option
- [NEW] Editor note block: Introduce editor note block
- [NEW] Floating box block: Added ARIA label attribute
- [NEW] Grid block: Added width option
- [NEW] Icon link block: Added search variation
- [NEW] Icons: Added new icons into the basic icon set
- [NEW] Patterns: Allow automatic registration template parts as a pattern
- [NEW] Post author date block: Added a link to the author page
- [NEW] Post counter block: Added more detailed description
- [NEW] Post date blocks: Added a default format option
- [NEW] Post date blocks: Added options to show the modified date of post
- [NEW] Post featured image block: Added Adaptive style
- [NEW] Post meta blocks: Added label option and new style variations
- [NEW] Post meta blocks: Added options for icon decoration
- [NEW] Post read time block: Introduce post read time block
- [NEW] Post template block: Added fluid style
- [NEW] Post template block: Added margin option
- [NEW] Settings Added Custom Code option
- [NEW] Tabs block: Introduce Tabs and Tab block
- [NEW] Terms block: Added a custom items option
- [NEW] Theme support Added theme info support
- [UPDATE] Ads block: Improved demo mode
- [UPDATE] Block color: Allow changing color opacity for a solid color
- [UPDATE] Block printing: Support standard wide size configuration
- [UPDATE] Block props: Fixed block link color specificity
- [UPDATE] Block script: Fixed error in console
- [UPDATE] Block shadow: Allow using presets from theme.json
- [UPDATE] Block style: Improved class name replacement
- [UPDATE] Block visibility: Improve UX in editor
- [UPDATE] Block visibility: Remove an empty value from saved markup
- [UPDATE] Block visibility: Remove an empty value from saved markup
- [UPDATE] Blocks: Add a default featured preview image
- [UPDATE] Blocks: Fix saving empty value for color
- [UPDATE] Blocks: Improve RTL style
- [UPDATE] Box shadow: Improved compatibility with Gutenberg
- [UPDATE] Breadcrumb block: Improved accessibility
- [UPDATE] Compatibility: Improved enqueuing assets in WP 6.3
- [UPDATE] Content area block: Fixed the left sidebar for fluid style
- [UPDATE] Content area column block: Improved layout
- [UPDATE] Core navigation block: Allow gutenmate style in other block styles
- [UPDATE] Core navigation block: Enhance submenu animation style for consistency
- [UPDATE] Core navigation block: Fixed overlay menu
- [UPDATE] Core navigation block: Improved css
- [UPDATE] Core navigation block: Reduce page width flickering when open/close a modal menu
- [UPDATE] CSS: Fixed style rendering
- [UPDATE] Custom field block: Improve the UI when using alternative text mode
- [UPDATE] Decorated list block: Fix editor error on Firefox
- [UPDATE] Floating box block: Fixed border radius when using shadow
- [UPDATE] Floating box block: Fixed z-index
- [UPDATE] Floating box: Fixed a close button clickability
- [UPDATE] Headling block: Improved UX in editor
- [UPDATE] Icon fonts: Fixed loading in editor
- [UPDATE] Icon link block: Fixed color on editor
- [UPDATE] Icons: Fixed WP API calls
- [UPDATE] Mega menu link block: Fix core blocks parsing error
- [UPDATE] Pagination blocks: Change color option label for less confusion
- [UPDATE] Post author date block: Fixed default date format
- [UPDATE] Post blocks: Fixed link styling to allow a default style from theme.json
- [UPDATE] Post date block: Fixed default date format
- [UPDATE] Post featured image block: Always show inside content when using a cover style
- [UPDATE] Post featured image block: Fix overlay with blend mode
- [UPDATE] Post featured image block: Fixed AMP style
- [UPDATE] Post featured image block: Fixed visibility option
- [UPDATE] Post featured image block: Improve style for an embeded spotify
- [UPDATE] Post featured image block: Improved to support popup elements
- [UPDATE] Post featured image block:Improved default spacing for the inner content area
- [UPDATE] Post meta blocks: Will not be rendered if no data available
- [UPDATE] Post navigation link: Fixed post rendering
- [UPDATE] Post navigation link: Fixed visibility option
- [UPDATE] Post review block: Fixed style name
- [UPDATE] Post share block: Fixed the print button on AMP page
- [UPDATE] Post template block: Fixed options in rendering
- [UPDATE] Post template block: Improved compatibility for WP 6.3
- [UPDATE] Post template block: Updated post preview engine
- [UPDATE] Post views block: Fixed invalid display behavior
- [UPDATE] Section headline: Improved block spacing for the underline style
- [UPDATE] Separator block: Improved block spacing compatibility
- [UPDATE] Slider template block: Fix UI bugs
- [UPDATE] Slider template block: Fixed options in rendering
- [UPDATE] Slider template block: Fixed rendering of multi-post per slide
- [UPDATE] Slider template block: Improved compatibility for WP 6.3
- [UPDATE] Slider template block: Improved the Creative style for a small screen size
- [UPDATE] Slider template block: Updated post preview engine
- [UPDATE] Slider template block: Updated to SwiperJS 9.4
- [UPDATE] Terms block: Improved style
- [UPDATE] UI: Fixed typography